County recognized for excellence in financial reporting
April 29, 2020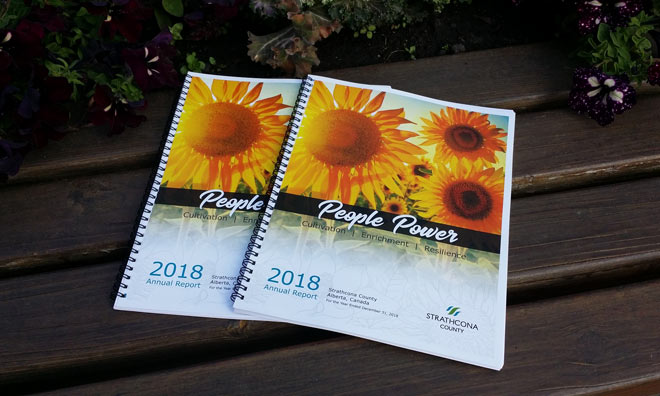 It's "high fives" for Strathcona County as it earns a fifth consecutive Canadian Award for Financial Reporting, this time for its 2018 Annual Report entitled, People Power: Cultivation - Enrichment - Resilience.
Presented by the Government Finance Officers Association of the United States and Canada (GFOA), this achievement recognizes excellence in governmental accounting and financial reporting. The annual report was judged to meet the high standards of the program. This includes demonstrating a constructive "spirit of full disclosure" designed to communicate the municipality's financial story clearly and to motivate stakeholders and the public to read the report.
"Receiving this award, now five times in a row, represents a significant accomplishment by our Corporate Finance Department," says Mayor Rod Frank. "This acknowledgment highlights the County's proficiency and commitment to excellence in financial reporting. Congratulations to the County staff who have brought this recognition to our municipality."
The Canadian Award for Financial Reporting Program was established to encourage municipal governments throughout Canada to publish high quality financial reports.
The 2018 Annual Report is available at strathcona.ca/annualreports. 
Set in the centre of Alberta's energy and agricultural heartland, Strathcona County is a thriving, successful and vibrant community of over 98,000 residents. Strathcona County is made up of the urban area of Sherwood Park and a large adjacent rural area of farms, acreages and smaller hamlets. It is home to 75 per cent of hydrocarbon processing in Western Canada. Strathcona County is a leader in environmental conservation, and 55 per cent of its land is within the UNESCO Beaver Hills Biosphere. With a focus on economic, governance, social, cultural and environmental sustainability, Strathcona County is committed to balancing the unique needs of its diverse community.
- 30 -
Contact: Strathcona County Communications, 780-410-6595