Gallery@501 presents Luxor Urban Art: A documentary photography exhibit
June 20, 2019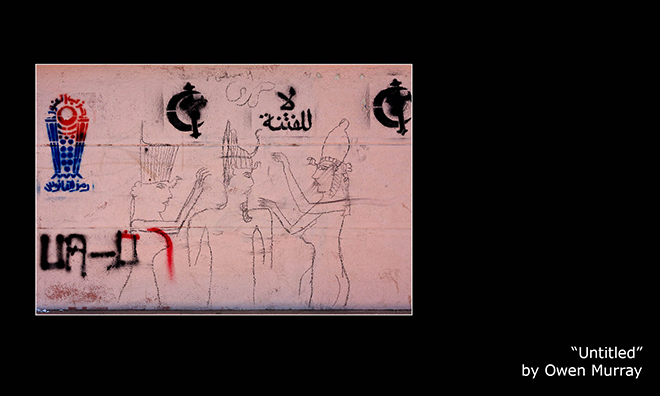 The Gallery@501 is pleased to present Luxor Urban Art, a documentary photography exhibit of murals painted in protest to the political and cultural uprising in Egypt labeled the "Arab Spring".
Arab Spring was a series of pro-democracy uprisings that enveloped several largely Muslim countries, including Tunisia, Morocco, Syria, Libya, Egypt and Bahrain. The events in these nations generally began in the spring of 2011, which led to the name.
Graffiti artists used their artwork as a weapon against the new military rulers, referencing traditional ancient Egyptian symbols, motifs and artifacts. Anti-censorship graffiti encouraged citizens to express themselves on the walls of Egyptian cities and to mobilize against "state oppression".
The images found in the murals can be directly related to ancient Egyptian art, advocating for a cultural identity and national pride, free from military rule and oppression. Many of the images, often invoking pyramids, pharaohs, mummies, Egyptian goddesses and other mythological figures or ancient symbols, reflect current events and reflect the spirit of the revolution, carrying political messages as well as commemorative value.
Luxor Urban Art opens on July 2 and is on display until August 25, 2019. The public is invited to attend the exhibit's opening reception on Tuesday, July 2 at 7 p.m. in the Gallery@501 (501 Festival Avenue, Sherwood Park).
Set in the centre of Alberta's energy and agricultural heartland, Strathcona County is a thriving, successful and vibrant community of over 98,000 residents. Strathcona County is made up of the urban area of Sherwood Park and a large adjacent rural area of farms, acreages and smaller hamlets. It is home to 75 per cent of refining in Western Canada. Strathcona County is a leader in environmental conservation, and 55 per cent of its land is within the UNESCO Beaver Hills Biosphere. With a focus on economic, governance, social, cultural and environmental sustainability, Strathcona County is committed to balancing the unique needs of its diverse community.
- 30 -
Contact: Strathcona County Communications, 780-410-6595