Council approves transit direction for next 10 years
February 27, 2019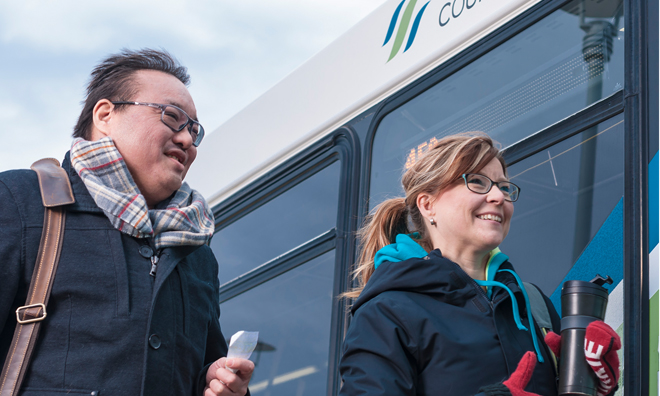 Strathcona County Council approved a Transit Master Plan that provides direction on the planning and delivery of County transit service over the next 10 years. Transit will use its master plan as a guide to develop detailed business plans through its annual planning and budget process.
"As our community's transportation needs continue to evolve, the Transit Master Plan provides the vision for delivering customer-focused improvements over the next decade," says Mayor Rod Frank. "This plan balances the feedback we heard to help us deliver the best transit service, in a way that maximizes the return on investment of our public dollars."
Key highlights of the 2019 Transit Master Plan include exploring 'Dynamic Transit' service, which will provide a better and more cost-effective on-demand shared local ride service. In addition, public feedback led to direction to look at improving evening service at the University of Alberta, as well as the connection to NAIT in Edmonton.
The Transit Master Plan notes the upcoming need to provide service to new approved growth areas in Strathcona County. The plan also capitalizes on the opportunity to look at expanding transit's role in coordinating various mobility options such as fixed-route service, Mobility Bus (specialized transit) service, ride sharing, car sharing, and carpool coordination.
Additional actions include identifying cost effective opportunities to improve mobility for residents in rural areas, while continuing to improve service to meet the growing needs of the community.
Public feedback, from transit users and non-users, was key to ensuring the new Transit Master Plan continues to meet the public transportation needs of the community. Throughout an extensive public engagement process, which began in winter 2018, feedback about transit service was collected at focus group discussions, meetings with Council, advisory committees, County departments, transit staff, and various stakeholders. The project also included 13 public engagement events, online surveys, and a number of supportive activities designed to generate interest, awareness, and meaningful conversations about the future of Strathcona County transit services.

The resulting recommendations received strong community support during the second phase of public engagement. Approximately 90 percent of online responses agreed or strongly agreed that the recommendations reasonably reflect their ideas of what the future of transit in the community should be. Feedback from these community engagement events is incorporated into the final Transit Master Plan.
The 2019 Transit Master Plan builds upon the successes of the 2012 Transit Master Plan, including the construction of the Bethel Transit Terminal and a new route structure, investing in a fully-accessible bus fleet, introduction of the province's first double decker bus fleet, and fare parity for those who require specialized services through the County's Mobility Bus fleet.
Strathcona County Transit delivers over 1.6 million trips and travels over 3.3 million kilometres annually. Transit provides four core outcomes to enhance the mobility of the community: inter-municipal transit, local transit, Mobility Bus and special event service. 
More information on Strathcona County Transit.
View the Transit Master Plan or call 780-464-7433 to request a copy.
Set in the centre of Alberta's energy and agricultural heartland, Strathcona County is a thriving, successful and vibrant community of over 98,000 residents. Strathcona County is made up of the urban area of Sherwood Park and a large adjacent rural area of farms, acreages and smaller hamlets. It is home to 75 per cent of refining in Western Canada. With a focus on economic, governance, social, cultural and environmental sustainability, Strathcona County is committed to balancing the unique needs of its diverse community.
- 30 -
Contact: Strathcona County Communications, 780-410-6595