2019 Pride of Strathcona Awards - Nominate by March 18
February 1, 2019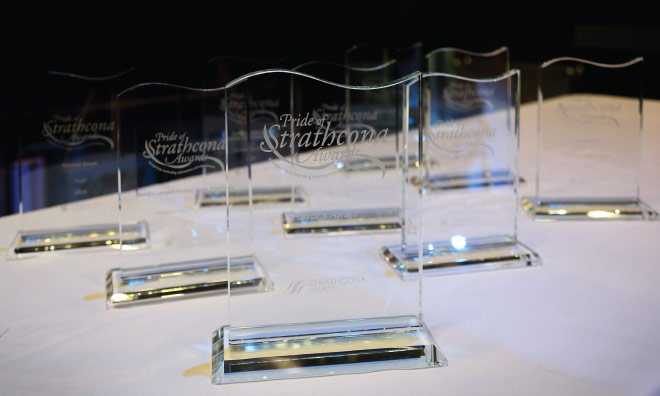 Improving quality of life for others, innovating in business and agriculture, giving back through volunteering - these are some of the ways individuals and groups are making a positive impact in Strathcona County. In recognition of outstanding contributions and achievements, citizens are invited to nominate an individual or group for a 2019 Pride of Strathcona Award. The deadline for nominations is Monday, March 18, 2019.
"It is important to recognize the dedicated, talented and caring individuals and groups who make a positive difference in our community," says Mayor Rod Frank. "The Pride of Strathcona Awards is our opportunity to salute these remarkable people for their contributions and achievements. I encourage citizens to nominate those who make our community a better place to be."
The 2019 Pride of Strathcona Awards categories are: Agricultural Leadership; Arts, Culture and Heritage; Community Service; Economic Diversification; Heroism and Leadership; Outstanding Group; Service to Seniors; and Youth.
This year's award ceremony will take place on Monday, June 10 at Festival Place.
More information about the Pride of Strathcona Awards and the online nomination form, or call 780-410-6595. Nomination forms can also be picked up at County facilities.
Set in the centre of Alberta's energy and agricultural heartland, Strathcona County is a thriving, successful and vibrant community of over 98,000 residents. Strathcona County is made up of the urban area of Sherwood Park and a large adjacent rural area of farms, acreages and smaller hamlets. It is home to 75 per cent of refining in Western Canada. With a focus on economic, governance, social, cultural and environmental sustainability, Strathcona County is committed to balancing the unique needs of its diverse community.
- 30 -

Contact: Strathcona County Communications, 780-410-6595