Strathcona County partners with local school board to provide more gymnasium time for community use
February 1, 2019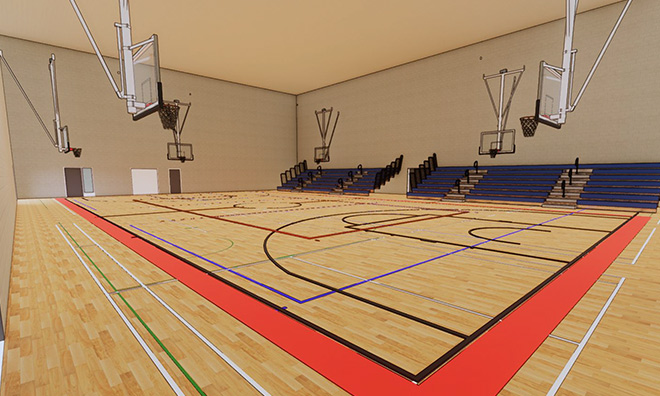 On January 22, 2019, Strathcona County Council approved $2.8 million in funding towards an innovative partnership with Elk Island Catholic School Division that will result in approximately 1,000 additional hours of community access through a local school's gymnasium expansion.
Elk Island Catholic Schools is investing a total of $10.4 million towards the modernization of École Père Kenneth Kearns, located at 8 Sandpiper Drive, Sherwood Park. Construction is expected to begin in summer, 2019 with a targeted completion date of fall, 2021.
Built in 1967, École Père Kenneth Kearns is currently operating as a Catholic French Immersion School serving 230 Kindergarten to Grade 4 students and 18 preschool students. Strathcona County's funding enables the school board to expand the gymnasium by 308 metres² to regulation size, which would not have been possible based on the allowable size for elementary schools under Alberta Education's funding formula.
"The gymnasium expansion is a timely win-win for our community and students. Through this partnership with the Elk Island Catholic School Board, we are able to provide an additional 1,000 hours of annual gymnasium time directly to our community groups. This partnership addresses our community's immediate recreation needs, without having to pay full price for a stand-alone gymnasium on our own," says Mayor Rod Frank. "We've listened closely to our community's recent feedback on recreation and culture opportunities in the County, and we heard that gymnasium space is ranked as one of the top five indoor spaces needed by user groups."
"The Elk Island Catholic School Board of Trustees appreciates the strong partnership that exists between our organizations," says Ted Paszek, Elk Island Catholic School Board Chair. "I believe this enhancement is of good value and will provide excellent educational and extracurricular opportunities for County residents."
The larger regulation-sized gymnasium offers many benefits to the community that will support a wider variety of use, including tournaments and community events. The County's funding will also assist in the construction of dedicated space for gymnasium equipment storage, fully accessible locker/changerooms with showers, bleachers, flex/meeting space, and an after-hours community entrance to the gymnasium.
Community use of the gymnasium space on weeknights and Saturdays will be made available through the existing Reciprocal Use Agreement between Strathcona County and Elk Island Catholic Schools. Strathcona County will allocate time to community groups through its existing allocation process. As the facility owner, Elk Island Catholic School Division will manage the asset and ongoing operational costs of the gymnasium.
Strathcona County and Elk Island Catholic Schools have a long history of working together to find synergies in service delivery that benefit the community. A recent example is the Emerald Hills Regional Park and Leisure Centre sharing a site with Archbishop Jordan Catholic High School, which has generated many benefits to the high school and the overall community.
Set in the centre of Alberta's energy and agricultural heartland, Strathcona County is a thriving, successful and vibrant community of over 98,000 residents. Strathcona County is made up of the urban area of Sherwood Park and a large adjacent rural area of farms, acreages and smaller hamlets. It is home to 75 per cent of refining in Western Canada. With a focus on economic, governance, social, cultural and environmental sustainability, Strathcona County is committed to balancing the unique needs of its diverse community.
- 30 -
Contact: Strathcona County Communications, 780-410-6595