Council approves new Recreation and Culture Strategy
October 9, 2019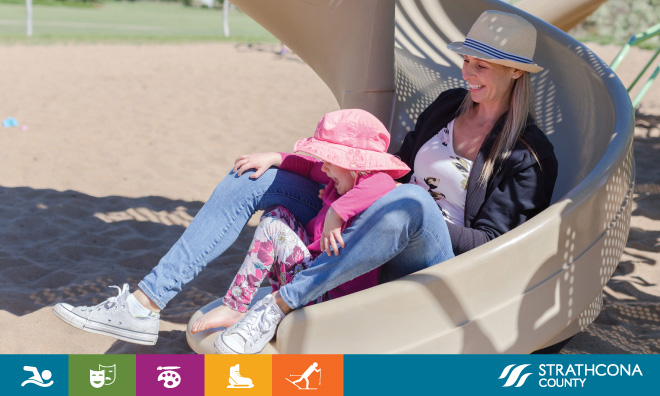 Strathcona County Council has approved a new Recreation and Culture Strategy that will serve as the guiding document for the community's provision of recreation and culture over the next 12 years.
This new strategy will serve as a high level "road map" that extends its focus beyond facility development and enhancement with the vision of providing a more holistic view of recreation, parks and culture priorities in the community.
"This unique approach considers all aspects of service delivery - including partnerships, accessibility, inclusion and capacity building – that will be achieved through, and with, the community," says Mayor Rod Frank. "Our public engagement conversations were rooted in a shared passion for recreation and culture opportunities that contribute to an overall sense of well-being."
The Recreation and Culture Strategy was informed by more than 5,000 community responses representing 34,000 people, and further refined by representatives of 100 community groups. Strathcona County also worked with its consultant to gather research on trends and best practices, as well incorporating the County's community profile, plans and policies to help shape the overall strategy.
The new Recreation and Culture Strategy focuses on five key areas: community needs, inclusion, building capacity, environmental stewardship and fiscal responsibility. These areas of focus serve to inform the priorities in the upcoming implementation plan.
The detailed 12-year implementation plan will be developed with short, medium and long-term priorities, including public investment recommendations. The 12-year implementation plan is expected to be presented for Council approval in spring, 2020.

The new Recreation and Culture Strategy builds off the County's existing Open Space and Recreation Facility Strategy (OSRFS). Several enhancements to community recreation came out of the OSRFS, including but not limited to, the construction of Emerald Hills Leisure Centre and Sports Pavilion with artificial turf, the revitalization of Ardrossan Recreation Complex and Glen Allan Recreation Complex, Josephburg Trail, other outdoor fitness equipment and the new spray parks located in Broadmoor Lake Park and Ardrossan Park.
 
For more information, and to view the Recreation and Culture Strategy, visit strathcona.ca/RecreationCulture or call 780-464-8487.


Set in the centre of Alberta's energy and agricultural heartland, Strathcona County is a thriving, successful and vibrant community of over 98,000 residents. Strathcona County is made up of the urban area of Sherwood Park and a large adjacent rural area of farms, acreages and smaller hamlets. It is home to 75 per cent of hydrocarbon processing in Western Canada. Strathcona County is a leader in environmental conservation, and 55 per cent of its land is within the UNESCO Beaver Hills Biosphere. With a focus on economic, governance, social, cultural and environmental sustainability, Strathcona County is committed to balancing the unique needs of its diverse community.
- 30 -
Contact: Strathcona County Communications, 780-410-6595