Residents invited to share thoughts about a municipal community cemetery
October 2, 2019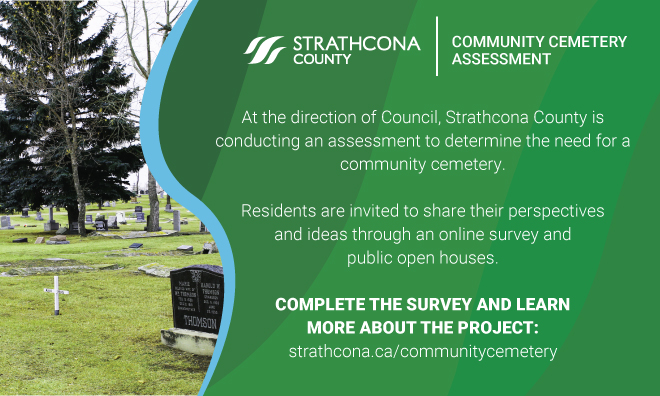 Strathcona County is inviting residents to share thoughts on how they would like to be remembered after death and preferred options for burial/resting places.
Initiated by Council, the Community Cemetery Assessment will determine the need for a municipal community cemetery. Findings will be presented to Council in January of 2020. Input will be used to help with the planning process and next phases of work, if approved by Council.

Residents are invited to fill out a survey, available online, or a hard copy may be requested by calling 780-464-4044. The survey is available until October 21, 2019.

Residents are also invited to share their ideas during two open house sessions, taking place on October 16 at the Sherwood Park Log Cabin (50 Spruce Avenue, Sherwood Park) from 4:30 p.m. to 6:30 p.m. and October 17 at the South Cooking Lake Community Hall (100, 22106 South Cooking Lake Road) between 4 p.m. and 6 p.m.

In addition, interactive workshops will be held with targeted stakeholders to facilitate discussions regarding existing practices, trends, community needs and interests in and design ideas for a community cemetery. 
The cemeteries in Strathcona County currently include private and faith-based cemeteries. Faith-based cemeteries may offer services only to their members or congregations and some faith groups may not have a cemetery. Municipal cemeteries can offer a wide variety of options on a spectrum of price points and are open to all members of the community.
Call 780-464-4044 to learn more about the Community Cemetery Assessment.
Set in the centre of Alberta's energy and agricultural heartland, Strathcona County is a thriving, successful and vibrant community of over 98,000 residents. Strathcona County is made up of the urban area of Sherwood Park and a large adjacent rural area of farms, acreages and smaller hamlets. It is home to 75 per cent of hydrocarbon processing in Western Canada. Strathcona County is a leader in environmental conservation, and 55 per cent of its land is within the UNESCO Beaver Hills Biosphere. With a focus on economic, governance, social, cultural and environmental sustainability, Strathcona County is committed to balancing the unique needs of its diverse community.
- 30 -
Contact: Strathcona County Communications, 780-410-6595