Strathcona County Regional Trail grand opening
September 4, 2018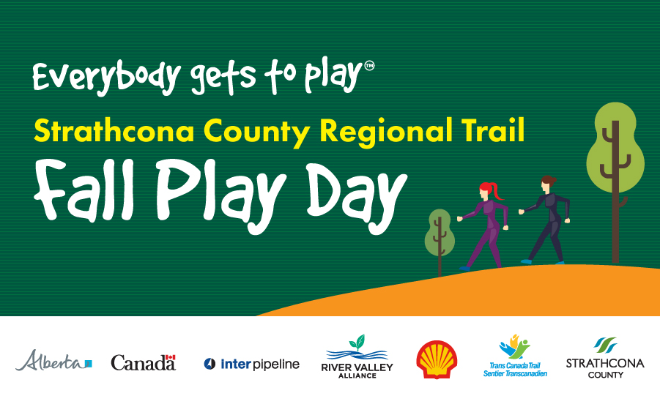 Residents are invited to participate in the grand opening celebration of the new Strathcona County Regional Trail at 10:30 a.m. on September 8, 2018.
The opening ceremonies will take place at 902 Township Road 540, Sherwood Park. Drive North on Sherwood Drive (Range Road 232), turn west on Township Road 540 (after Legends Golf Course), and follow Township Road 540 towards the river.
As part of the celebration, families are encouraged to stay for the Everybody Gets to Play Fall Play Day. The Fall Play Day runs 11 a.m. until 2 p.m. at the trailhead of the Riverside Nature Trail. Enjoy a free hotdog BBQ (for the first 250 people), crafts, bike check by Mud, Sweat and Gears and more.
"Strathcona County is proud to be part of this regional partnership with the River Valley Alliance," says Mayor Rod Frank. "This is the first time Strathcona County has been formally linked to the North Saskatchewan River Valley through public access points on County land. Our trail system is used extensively and I'm pleased that our residents will now have more local options to choose from to bike, walk or jog."
"Connecting people to the river valley - and through the river valley, both literally and figuratively - is what the River Valley Alliance is all about," says River Valley Alliance Executive Director Brent Collingwood. "We're thrilled that, in partnership with Strathcona County and our provincial and federal supporters, we're opening another piece of the trail system for the public to enjoy, access, and connect to this beautiful gem that's right here in our backyard." 
The Strathcona County Regional Trail portion is 22 kilometres long, and connects the Strathcona Provincial Science Park to Fort Saskatchewan. The entire regional trail system is 88 kilometres, connecting Devon to Sturgeon County.
The River Valley Alliance is a not-for-profit organization made up of the seven shareholder municipalities that border the North Saskatchewan River in the Edmonton region: the Town of Devon, Parkland County, Leduc County, the City of Edmonton, Strathcona County, the City of Fort Saskatchewan, and Sturgeon County. Its goal is to preserve, protect and enhance the largest metropolitan river valley park system in the world – a legacy for generations to come – by connecting the trail system and making it easier for all to access and enjoy.   
Set in the centre of Alberta's energy and agricultural heartland, Strathcona County is a thriving, successful and vibrant community of over 98,000 residents. Strathcona County is made up of the urban area of Sherwood Park and a large adjacent rural area of farms, acreages and smaller hamlets. It is home to 75 per cent of refining in Western Canada. With a focus on economic, governance, social, cultural and environmental sustainability, Strathcona County is committed to balancing the unique needs of its diverse community.
- 30 -
Contact: Strathcona County Communications, 780-410-6595