Strathcona County proud to host Rogers Hometown Hockey!
August 21, 2018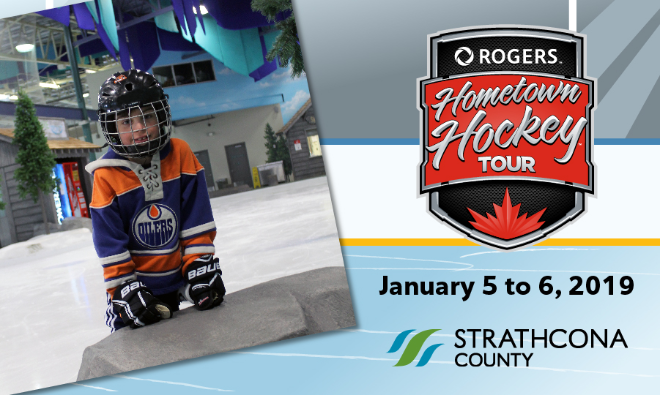 Strathcona County is pumped to be selected as the first Alberta stop in the 2018/2019 Rogers™ Hometown Hockey™ Tour on January 5 to 6, 2019. The Rogers™ Hometown Hockey™ Tour, presented by Scotiabank, is a free family-friendly hockey celebration featuring two days of live entertainment, NHL alumni, local celebrities and hockey-themed activities for all ages.
Running from Saturday, January 5 through to the evening of Sunday, January 6, 2019, the festival culminates with an outdoor viewing party of the Edmonton Oilers playing the Anaheim Ducks, hosted live by Ron MacLean and Tara Slone on Sportsnet.
"Hockey is something our entire community can gather around – whether you are player, coach or a die-hard fan," says Mayor Rod Frank. "Hockey is a way of life in Strathcona County. With nearly 40 indoor and outdoor ice surfaces in our community, we have many hockey highlight moments, from first skates all the way up to the NHL. We're looking forward to sharing many stories with Ron MacLean and Tara Slone for the rest of Canada to hear on January 5 and 6, 2019."
In celebration of today's announcement, Strathcona County is offering free skating at Millennium Place and the Ardrossan Recreation Complex on August 21, 2018. Visit strathcona.ca/hometownhockey for details. Watch for further details about Strathcona County's exciting events leading up to the Rogers Hometown Hockey festival.
While live on location in Strathcona County on January 5 and 6, Ron MacLean and Tara Slone will host a pre-game, intermission and post-game show from the Sportsnet Mobile Studio, shining a spotlight on Strathcona County's unique community, strong hockey history and personal local hockey stories.
The celebrations in Strathcona County will be featured on the Rogers Hometown Hockey broadcast, airing at 5:30 p.m. MT on Sportsnet and available to stream on Sportsnet NOW and Rogers NHL LIVE. 
Beginning in October, the Rogers™ Hometown Hockey™ Tour visits 25 communities throughout Canada to celebrate Canada's deep hockey roots. For more information about Rogers Hometown Hockey, visit hometownhockey.com  
Set in the centre of Alberta's energy and agricultural heartland, Strathcona County is a thriving, successful and vibrant community of over 98,000 residents. Strathcona County is made up of the urban area of Sherwood Park and a large adjacent rural area of farms, acreages and smaller hamlets. It is home to 75 per cent of refining in Western Canada. With a focus on economic, governance, social, cultural and environmental sustainability, Strathcona County is committed to balancing the unique needs of its diverse community.
- 30 -
Contact:   Strathcona County Communications, 780-410-6595