Reminder to residents: recycling changes now in effect
August 20, 2018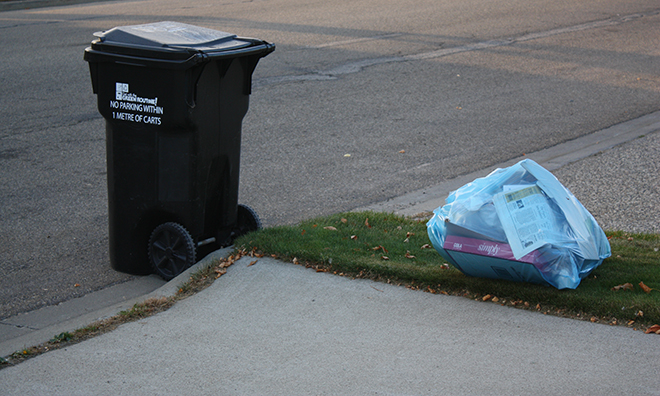 Beginning August 27, 2018 residents with improperly sorted blue bags may notice a door knocker reminder card left at their home or on their cart, outlining the new waste sorting routine.  Strathcona County is using this reminder to help educate residents about keeping contaminated materials out of blue bags.
As of September 10, blue bags with unacceptable or contaminated items will no longer be collected by Strathcona County. The County will attach a sticker to the uncollected blue bags, noting the waste sorting changes necessary for collection.
"Strathcona County residents have developed great recycling habits over the past decade, making the Green Routine one of the highest performing residential programs in the province," says Leah Seabrook, Manager of Waste Management and Community Energy. "Even with these recycling changes, the Green Routine will continue to be a strong waste program, as residents have developed behaviours that will help sustain this program through these current challenges."
World-wide recycling changes have required the County to alert its residents about necessary changes in waste sorting. The reality is that many low quality plastics and materials (e.g. clamshells and Styrofoam meat trays) cannot be turned into anything new.
Strathcona County, along with many other municipalities in Alberta, does not do any direct processing, nor is the County in the business of manufacturing. As such, the County is heavily involved in industry discussions about how the County can find new options for these materials, while advocating for creative solutions. The County is also continuing to explore alternate collection methods for recyclables. 
Extensive resident communication about the changes began in June, 2018 with the Green Routine 2.0 program. This updated version of the County's waste collection program included changes to the blue bag sorting and a rethink on recycling.  
Under the new international restrictions, a contaminant is any recyclable that is not clean from food or liquid waste, soil or dirt, or any unmarketable recyclable item such as plastic film, Styrofoam or glass.
Top four tips:
1. Plastic films and flexible plastic packaging can no longer go in the blue bag. They need to go in the black cart. These materials are no longer recyclable due to changes to the global recycling system. Removing these items from our blue bag collection will help ensure materials such as paper and cardboard can still be recycled.
2. Styrofoam and glass can no longer go in the blue bag.  Large package Styrofoam and glass can be taken to the Enviroservice Station.  These materials can easily be broken in the blue bag, and the small pieces are difficult to sort for proper recycling and can contaminate other materials.
3. Keep your blue bags cleaner than ever before. Clean means taking extra care to ensure items in your blue bag are recyclable and free of food, liquids and dirt. If non-recyclable or soiled items end up in your blue bag, it can potentially ruin an entire load of recyclables that could be marketed/recycled. 
4. Green Routine 2.0 is about more than changes to the blue bag. It's about reducing and reusing before recycling.
Further information is available online  or by calling 780-449-5514. The County is also offering a personalized review of any interested resident's waste routine, in an effort to keep unnecessary waste out of the landfills. Call Utilities to book an appointment.
Set in the centre of Alberta's energy and agricultural heartland, Strathcona County is a thriving, successful and vibrant community of over 98,000 residents. Strathcona County is made up of the urban area of Sherwood Park and a large adjacent rural area of farms, acreages and smaller hamlets. It is home to 75 per cent of refining in Western Canada. With a focus on economic, governance, social, cultural and environmental sustainability, Strathcona County is committed to balancing the unique needs of its diverse community.
- 30 -
Contact: Strathcona County Communications, 780-410-6595