Fewer train whistles to be heard in Strathcona County
July 4, 2018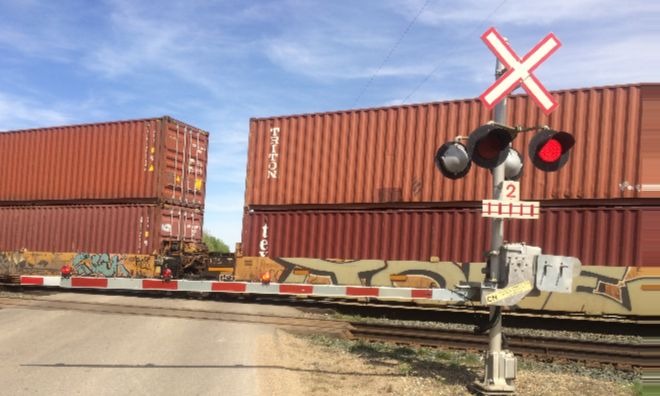 On July 3, Strathcona County Council passed a resolution to discontinue routine train whistling at two more Ardrossan crossings: south of Highway 16 at Range Road 223, and north of Highway 630 at Range Road 220. CN Rail will implement this change once it is advised of Council's resolution, as the safety measures to support cessation have already been put in place.
In the last 10 years, the number of trains on Canadian National Railway's Strathcona County line has increased from approximately 25 to 35 daily. The County started examining train whistle noise in 2013, after hearing a number of resident concerns about increased rail traffic and the consequent increased frequency of whistles.
Because the sounding of train whistles is mandated by Transport Canada, municipalities must undergo a detailed train whistle cessation process to stop the whistling. In 2016, the County successfully halted train whistles at Highway 824 (Range Road 222) in Ardrossan.
Future whistle cessation plans include the railway crossing north of Highway 16 at Range Road 231, which will be addressed later in 2018. Council also passed a motion for train whistle cessation projects to continue east on the same line, from Range Road 225 to 205 near North Cooking Lake, to be included in the 2019 capital budget.
It is important to note that, even with a whistle cessation agreement in place, rail companies will always retain the overriding authority to sound the train whistle at the sole discretion of the conductor.
Residents interested in learning more about railways in the County can go to strathcona.ca/railways.
Set in the centre of Alberta's energy and agricultural heartland, Strathcona County is a thriving, successful and vibrant community of over 98,000 residents. Strathcona County is made up of the urban area of Sherwood Park and a large adjacent rural area of farms, acreages and smaller hamlets. It is home to 75 per cent of refining in Western Canada. With a focus on economic, governance, social, cultural and environmental sustainability, Strathcona County is committed to balancing the unique needs of its diverse community.
- 30 -
Contact:  Strathcona County Communications, 780-410-6595