Residential street sweeping starts today
April 30, 2018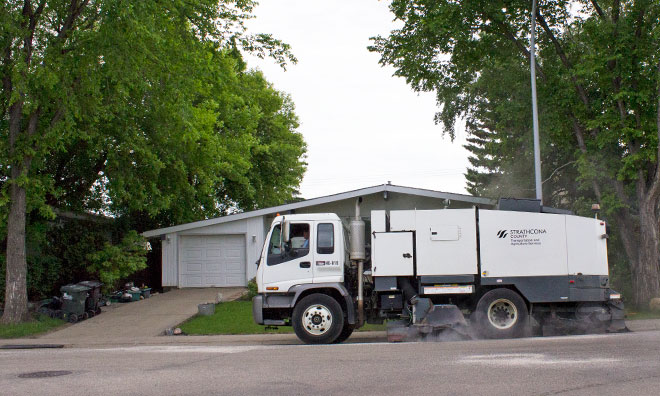 Spring cleanup of roads in Sherwood Park is underway. Street sweeping on main and arterial roads started late last week, and County crews will start sweeping residential areas today.
Sweepers will work during the day in residential neighbourhoods. Signs will be posted at least 24 hours before sweepers will begin working in each area. Watch
for signs in your neighbourhood, and take these steps to help your street get a clean sweep:
Remove parked cars. Vehicles will not be ticketed or towed during street sweeping, but sweepers can do a better job if vehicles are removed from the street.
Sweep your sidewalk and driveway. Sweep gravel and dirt onto the road.
Clear the road. Remove all rubber driveway mats (curb ramps) and any other on-street obstructions, such as basketball nets and waste collection carts.
Sweepers often make several passes down the same road to remove the dirt and debris, depending on the buildup of material on the road. It takes sweepers approximately five weeks to clear all roads.
- 30 -
Set in the centre of Alberta's energy and agricultural heartland, Strathcona County is a thriving, successful and vibrant community of almost 96,000 residents. Strathcona County is made up of the urban area of Sherwood Park and a large adjacent rural area of farms, acreages and smaller hamlets. It is home to 75 per cent of refining in Western Canada. With a focus on economic, governance, social, cultural and environmental sustainability, Strathcona County is committed to balancing the unique needs of its diverse community.
Contact: Strathcona County Communications, 780-410-6595