Strathcona County responding to localized flooding
April 23, 2018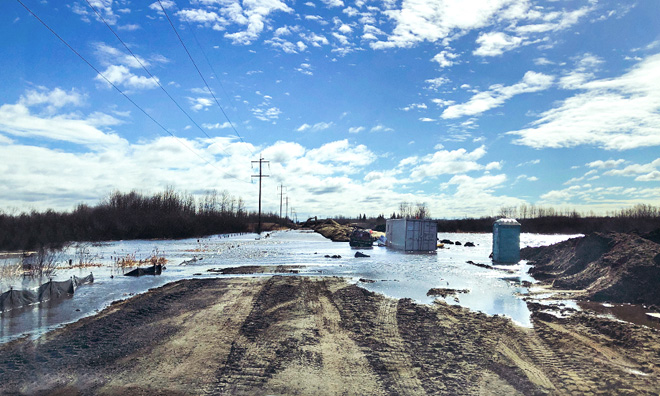 Strathcona County is responding to localized flooding in the northern part of the County, caused by a sudden rise in temperature and a rapid melt. The current focus is on high priority issues where there is a threat of flooding to homes, business or roadways.
Several creeks are flowing at high capacity; however, most areas are experiencing typical spring melting.
Strathcona County staff will continue to monitor and operations will continue 24 hours per day to proactively manage any high-risk issues.
When there is an immediate threat of flood to homes, businesses or roadways, residents should contact 780-417-7100. For all other inquiries, please submit an inquiry through County Connect.
For your safety:
Creek levels continue to rise and water levels are unpredictable. Remember to avoid flowing water in ditches. It may be faster than it looks.
There are local road closures: please obey all road closure signs.
You may come across a flooded road very quickly. Avoid driving through standing water. There may be hidden hazards.
Further details on drainage, flooding and tips on emergency preparedness.

Residents are encouraged to sign up for SC Alerts.
Set in the centre of Alberta's energy and agricultural heartland, Strathcona County is a thriving, successful and vibrant community of over 98,000 residents. Strathcona County is made up of the urban area of Sherwood Park and a large adjacent rural area of farms, acreages and smaller hamlets. It is home to 75 per cent of refining in Western Canada. With a focus on economic, governance, social, cultural and environmental sustainability, Strathcona County is committed to balancing the unique needs of its diverse community.
-30-
Media inquiries: Transportation and Agriculture Services 780-417-7100