All-day school zones to take effect in September
March 5, 2018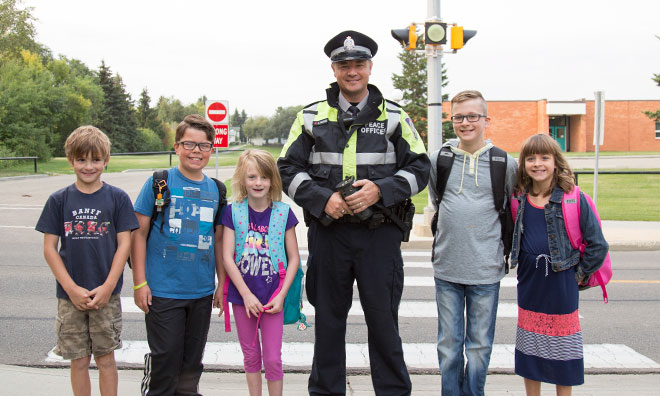 Beginning in September, all school zones in Strathcona County will be in effect from 7:30 a.m. to 4:30 p.m. on school days.
Council on February 27 voted for an amendment to the speed control bylaw to extend school zone effective times for urban and rural schools. 
"We appreciate the support and collaboration of our partners in safety such as the Strathcona County School Traffic Safety Partnership. Moving to all-day school zones supports their recommendations," says Mayor Rod Frank. "It supports our Vision Zero philosophy, where no one is seriously injured or killed while travelling on Strathcona County's road network."
The County's Traffic Safety Strategic Plan 2020 is based on a Safe System approach, which challenges road designers and regulators to create a forgiving environment for road users, assuming collisions will occur. A maximum speed limit of 30 kilometres per hour is considered appropriate in areas where pedestrians and cyclists mix with cars.
Strathcona County currently follows the provincial standard for school zone effective times on school days: 8 a.m. to 9:30 a.m.; 11:30 a.m. to 1:30 p.m.; 3 p.m. to 4:30 p.m. However, these effective times are inconsistent with some of the County's school schedules and early dismissal days.
Strathcona County will be working closely with stakeholders to communicate the school zone time change to local drivers. The County will also be ensuring the new effective times are displayed on every school zone sign in the County.
More information on school zones
Set in the centre of Alberta's energy and agricultural heartland, Strathcona County is a thriving, successful and vibrant community of over 98,000 residents. Strathcona County is made up of the urban area of Sherwood Park and a large adjacent rural area of farms, acreages and smaller hamlets. It is home to 75 per cent of refining in Western Canada. With a focus on economic, governance, social, cultural and environmental sustainability, Strathcona County is committed to balancing the unique needs of its diverse community.
- 30 -
Contact: Strathcona County Communications, 780-410-6595