Choose kind
February 6, 2018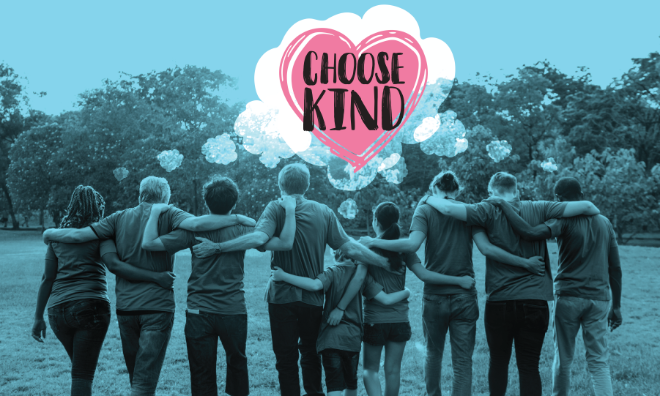 February may be known for its cupid-filled Valentine's Day, but Strathcona County is extending the heart-warming reach around the entire month.
Officially declared by Mayor Rod Frank as Choose Kind month, February will be filled with initiatives and events that encourage residents to champion Choose Kind as a way to build respectful and healthy relationships throughout the community.
This year's Choose Kind initiatives include activities related to larger provincial campaigns including Safer Internet Day (February 6), Random Acts of Kindness Week (February 11-17) and the anti-bullying Pink Shirt Day (February 28).
On February 16, residents of all ages are invited to the Spread Kindness event at the Gallery@501 (501 Festival Lane, Sherwood Park). This free event runs from 1:30 p.m. – 3:30 p.m., with the first 200 people receiving a free white t-shirt to design for Pink Shirt Day (February 28). Attendees will also be invited to design a kindness button and their own unique kindness paper fortune teller.
Residents are encouraged to share their experience with receiving or choosing kindness in conversations in person or online (through #SCchoosekind) or by writing on the speech bubbles on the giant Choose Kind board, located at Community Centre's artrium during the month of February.
Ideas on simple ways to share kindness include talking to a stranger while in line, holding the door open for others, thanking someone for the work they do, refrain from complaining for a week, gifting a favourite book, surprising a friend with supper, shovelling a neighbour's walk or leaving a kind note. Small actions can have a significant positive effect on others, including increased overall sense of belonging, self-worth and feelings of safety. Those who share kindness also benefit from higher overall feelings of well-being and self-worth.
On February 28, 2018, join the community for the Choose Kind showcase at County Hall at 6:30 p.m. to enjoy FREE drop-in activities and ice cream. Remember to wear pink or Choose Kind t-shirts for a community photo at the end of the night.
During recent Community Talk conversations, nearly 8,000 people shared experiences and ideas on how to best create a community where people feel supported, safe and connected. The results indicated nearly 88% of people agreed it is important for people to feel like they belong and are connected to others. However, only 69.8% of people currently believe people feel like they belong right now.
Everyone plays a role in creating a supported, safe and connected community. The key to healthy relationships is awareness and being kind and respectful to ourselves and others. Together, the goal is to create opportunities to promote kindness and compassion that supports connection and values individual differences.
Residents are reminded help is available to anyone experiencing or concerned about bullying. Contact Family and Community Services at 780-464-4044 or check out our services.
Set in the centre of Alberta's energy and agricultural heartland, Strathcona County is a thriving, successful and vibrant community of over 98,000 residents. Strathcona County is made up of the urban area of Sherwood Park and a large adjacent rural area of farms, acreages and smaller hamlets. It is home to 75 per cent of refining in Western Canada. With a focus on economic, governance, social, cultural and environmental sustainability, Strathcona County is committed to balancing the unique needs of its diverse community.
- 30 -
Contact: Strathcona County Communications, 780-410-6595