Help shape the future of transit in our community
February 21, 2018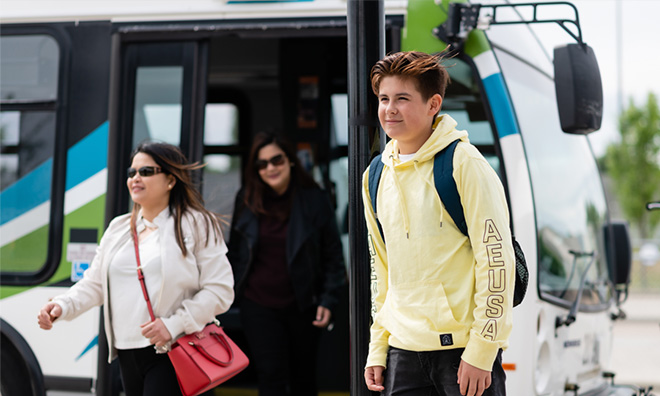 The public is invited to share ideas on how to best invest and plan for Strathcona County Transit service delivery over the next ten years, as part of the Transit Master Plan review.
In addition to an online survey, available February 26 to March 25, 2018, the public is invited to attend one of the five interactive drop-in open houses throughout Strathcona County between March 1 - 7, 2018. 
"Last year, Strathcona County Transit provided over 1.62 million rides. Our transit service is experiencing increased ridership, when most communities are facing decreased ridership," says Mayor Rod Frank. "This engagement invites the public to build on our transit successes by sharing ideas and suggestions on how to best deliver a transit service that reflects our community values and input."
The updated Transit Master Plan will look at the future of Strathcona County Transit service, including topics such as the Mobility Bus service for persons with disabilities, local transit services within Sherwood Park, rural transit service throughout Strathcona County and commuter bus service to and from Edmonton.
The plan will make recommendations on alternative service delivery, use of upcoming technologies, appropriate destinations, frequency of service, the hours of service and passenger amenities, such as parking. 
Recommendations will be based on the development of key performance standards and design guidelines, community input and assessment of existing service quality and performance.   
The updated Transit Master Plan for Strathcona County Transit will build on the current Transit Master Plan's successes, including the construction of the Bethel Transit Terminal, integration of a double-decker fleet, achieving 100% accessibility, improved overall route structure, changes to evening and weekend service within Sherwood Park, and a new fare strategy.
Complete the survey (starting February 26, 2018) or call Dillon Consulting Limited at 1-877-934-5566 (ext. 2465) for more information about the Transit Master Plan review.
Set in the centre of Alberta's energy and agricultural heartland, Strathcona County is a thriving, successful and vibrant community of over 98,000 residents. Strathcona County is made up of the urban area of Sherwood Park and a large adjacent rural area of farms, acreages and smaller hamlets. It is home to 75 per cent of refining in Western Canada. With a focus on economic, governance, social, cultural and environmental sustainability, Strathcona County is committed to balancing the unique needs of its diverse community.
- 30 -
Contact: Strathcona County Communications, 780-410-6595