Broadview Enviroservice Station receives collection site award of excellence
November 6, 2018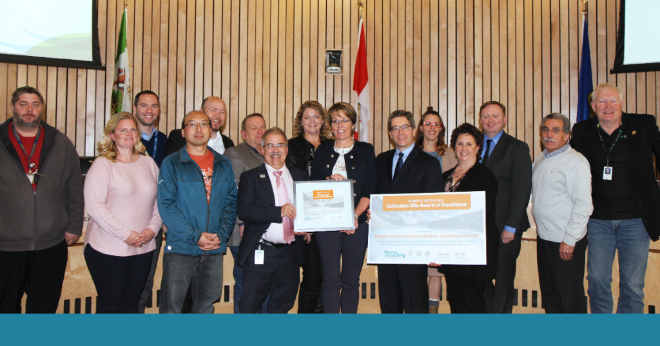 Strathcona County's recycling station has received a 2018 Collection Site Award of Excellence from the Alberta Recycling Management Authority (Alberta Recycling).
The Broadview Enviroservice Station was presented with the award at Council's Tuesday, October 23 Priorities Committee Meeting in Sherwood Park.
"We're pleased to be recognized for our efforts, providing residents with opportunities to reduce our environmental footprint," says Strathcona County Mayor Rod Frank. "Our success is made possible through the work we do with organizations such as Alberta Recycling."
Alberta Recycling is a not-for-profit environmental stewardship organization responsible for managing the electronics, paint, tire and used oil materials recycling programs in Alberta.
"Strathcona County is a valued partner," says Alberta Recycling Chair Caroline McAuley. "This award applauds Broadview Enviroservice Station and staff for the standard they have set in ensuring end-of-life electronics, paint, tires and used oil are recycled."   
Broadview Enviroservice Station was opened in 2016 to provide a safe, convenient and easy one-stop centre for people to drop-off their unwanted electronics, paint, oil and other household hazardous waste.
These items need special disposal to be kept out of the landfill or sewage system. They contain small quantities of toxic or hazardous components that can accumulate over time and contaminate the air, water and soil.
So far this year the Enviroservice station has had over 29,000 visits and diverted over 7,000 printers, monitors and computers from the landfills as well as 82,000 litres of used oil, 24 tonnes of paint, and 10.8 tonnes of household batteries.
The Enviroservice station was recognized specifically for its ease of use, clear signage, safe handling of dangerous materials and also its friendly and knowledgeable staff.
Broadview Enviroservice Centre is one of 452 registered Alberta Recycling electronics, paint and tire collection sites. Alberta Recycling conducts annual inspections to ensure sites meet program requirements and also to select award winners.
Alberta Recycling's Collection Site Awards of Excellence were introduced in 2008 and three awards are issued annually based on the population served. To be eligible a site must be registered with the electronics, paint and tire recycling programs; ensure safe and proper handling of program material; be convenient and accessible to the public and submit collection site incentive reports regularly.
Set in the centre of Alberta's energy and agricultural heartland, Strathcona County is a thriving, successful and vibrant community of over 98,000 residents. Strathcona County is made up of the urban area of Sherwood Park and a large adjacent rural area of farms, acreages and smaller hamlets. It is home to 75 per cent of refining in Western Canada. With a focus on economic, governance, social, cultural and environmental sustainability, Strathcona County is committed to balancing the unique needs of its diverse community.
- 30 -
Contact: Strathcona County Communications, 780-410-6595