Strathcona County welcomes new fire chief
October 25, 2018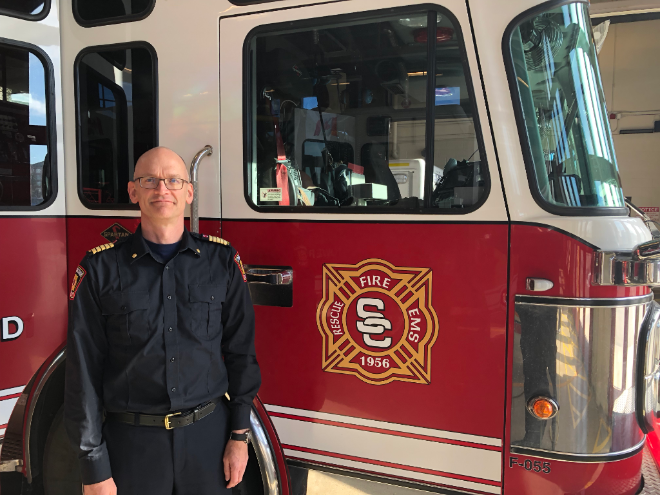 Strathcona County is pleased to announce Jeff Hutton as the new Director of Emergency Services and Fire Chief, effective October 29, 2018 following a successful recruitment process.
Chief Hutton has an extensive 37 year working experience with Strathcona County, including serving as the Utilities Director for 12 years. This experience, along with his advanced training in leadership and emergency management, is a valuable asset to the community. His passion for public service and public safety will benefit residents, staff, industry and stakeholders throughout Strathcona County.
Chief Hutton has a Civil Engineering Technology diploma, Bachelor of Commerce degree and a Masters in Business Administration. Chief Hutton recently worked with Emergency Services as part of an Incident Management Team that deployed to High River in 2013, as well as with the Incident Management Team that oversaw the Fort McMurray and area evacuee response in Strathcona County during the fires in 2016.
Chief Hutton was raised on a farm near Ardrossan and lives in Sherwood Park with his wife and two daughters.
Strathcona County Emergency Services is an integrated emergency services department that provides fire, rescue, emergency medical service (EMS) and hazardous materials response. Emergency Services is also responsible for emergency communications, emergency management, corporate business continuity, fire investigation, inspection, prevention and public education programs.
Set in the centre of Alberta's energy and agricultural heartland, Strathcona County is a thriving, successful and vibrant community of over 98,000 residents. Strathcona County is made up of the urban area of Sherwood Park and a large adjacent rural area of farms, acreages and smaller hamlets. It is home to 75 per cent of refining in Western Canada. With a focus on economic, governance, social, cultural and environmental sustainability, Strathcona County is committed to balancing the unique needs of its diverse community.
- 30 -
Contact: Strathcona County Communications, 780-410-6595