County connected on Family Day
March 23, 2015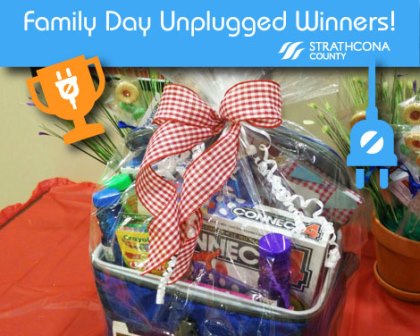 Many County residents unplugged from technology this past Family Day to connect with people through various fun activities.
The Family Day Unplugged challenge encouraged people to spend time away from electronic devices and instead spend time with family and friends. Many families did multiple activities during the unplugged time, including:
Skiing, ice skating, hockey, playing in the snow, sledding, snowmobiling, watching or participating in the world's longest hockey game, playing outside
Visiting with friends/family (often over meals)
Playing board games, card games, kid games, arts & crafts
Outings with school groups
Visiting Strathcona County Wilderness Centre/County recreation centres
Attending festivals in the region
Walking with family and pets
Reading
Going to the museum
Congratulations to local residents Ashley and Lisa who won one of two family games night package for sharing what their families did while unplugged on Family Day.
$18,179.62 was collected on Family Day through County recreational facility admissions and local Panago pizza sales for the Everybody Gets to Play program. This award-winning program provides recreation access to residents on a limited income. Find out more about Everybody gets to play call 780-464-4044.
To carry forward this momentum, families and individuals are encouraged to routinely disconnect from technology and remember to make time to connect with family and friends throughout the year.
More about Family Day Unplugged.
Set in the centre of Alberta's energy and agricultural heartland, Strathcona County is a thriving, successful and vibrant community of more than 92,000 residents. Strathcona County is made up of the urban area of Sherwood Park and a large adjacent rural area of farms, acreages and smaller hamlets. It is home to 75 per cent of refining in Western Canada. With a focus on economic, governance, social, cultural and environmental sustainability, Strathcona County is committed to balancing the unique needs of its diverse community.
- 30 -
Contact:
Strathcona County Communications, 780-410-6595