Transit seeking input on fares
March 11, 2015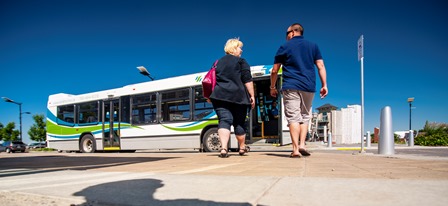 Transit is reviewing its fares as part of its continuing effort to deliver an affordable, attractive, consistent and convenient fare system that encourages transit use.
On March 10, 2015, Transit presented its draft Transit Fare Strategy to Council. The strategy included draft recommendations on fare structure and pricing. The draft recommendations were developed based on public and stakeholder input in 2014, as well as industry best practices and detailed technical analysis.
The current fare structure features inconsistent discounts and lack of incentives to attract youth and off-peak local riders. Findings also discovered cash and ticket fares are high and monthly bus passes are relatively low in comparing to peer systems. There are also many senior fares with varying and inconsistent discounts, as well as other findings noted in the strategy.
The draft recommendations focus on creating a consistent fare system. The recommendations include: standardizing the discount for youth and seniors; applying consistent discounts for low-income families; creating new discounted fares (such as a Family Event Pass) to meet various needs and encourage transit use; standardizing discounted fares (25 percent) for seniors who are not eligible for low-income Everybody Rides discount (75 percent); and making Mobility Bus fares the same as regular fares in Sherwood Park, and from Sherwood Park to Edmonton (no change from rural to Sherwood Park).
Transit is now seeking residents' views on the recommended Transit fares and structure. The public are invited to attend open house discussions about the draft fare recommendations on April 8, between 3 p.m. to 6:30 p.m. at the Bethel Transit Terminal (650 Bethel Drive) or on April 9, between 3 p.m. to 6:30 p.m. in meeting room two, at the Community Centre (401 Festival Lane). The consultant and Transit staff will be available to discuss the recommendations, collect feedback and answer questions.
Provide feedback in the starting March 13 until April 17, 2015.
Following the gathering and analysis of public feedback, the recommendations will be finalized in April/May 2015. Following Council approval, implementation of the approved recommendations will be gradual, and will begin with the 2016 budget process and may continue over several budget terms.
More information, including an overview of current and recommended pricing, as well as the draft Transit Fare Strategy, is available online or by calling 780-464-7433 to request a copy.
Set in the centre of Alberta's energy and agricultural heartland, Strathcona County is a thriving, successful and vibrant community of more than 92,000 residents. Strathcona County is made up of the urban area of Sherwood Park and a large adjacent rural area of farms, acreages and smaller hamlets. It is home to 75 per cent of refining in Western Canada. With a focus on economic, governance, social, cultural and environmental sustainability, Strathcona County is committed to balancing the unique needs of its diverse community.
- 30 -
Contact:
Strathcona County Communications, 780-410-6595