Operation Lunchbox needs you!
February 11, 2015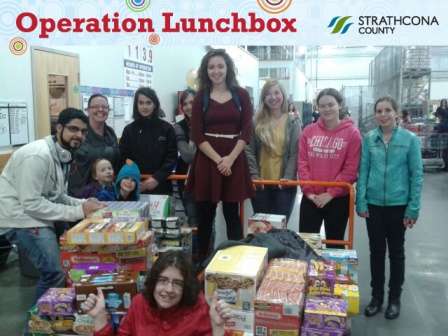 The big red lunch box is back. Beginning February 17, residents can donate non-perishable food items or cash to help provide healthy lunches to children and youth in Strathcona County.
Donations can be dropped off at the Community Centre or at Millennium Place until March 14, 2015. Last year, Operation Lunchbox donations helped the Strathcona Food Bank Association provide food to 1,958 County youth.
In addition, the Youth Council is raising funds through a Fast-A-Thon, taking place on March 13, 2015. Members will be collecting pledges for their 8-12 hour fast. Last year, the Youth Council raised $2,015 for the Strathcona Food Bank. This year, their goal is $2,500. Money raised will be used to purchase healthy lunch items for children and youth in our community and will be delivered to the local food bank.
Donations to the Fast-A-Thon are greatly appreciated and can be made by calling 780-464-4044. Youth Council members are putting a call out to other youth in Strathcona County to get involved. For those interested in participating in the Fast-A-Thon, call Heather Teghtmeyer at 780-464-4044.
Every family with school aged children who rely on the food bank will receive healthy food items collected through Operation Lunchbox. Call 780-449-6413 for further information about the Strathcona Food Bank Association.
The Strathcona County Youth Council is composed of teens from grades 7 – 12 and is supported and mentored by Strathcona County Family and Community Services.
Set in the centre of Alberta's energy and agricultural heartland, Strathcona County is a thriving, successful and vibrant community of more than 92,000 residents. Strathcona County is made up of the urban area of Sherwood Park and a large adjacent rural area of farms, acreages and smaller hamlets. It is home to 75 per cent of refining in Western Canada. With a focus on economic, governance, social, cultural and environmental sustainability, Strathcona County is committed to balancing the unique needs of its diverse community.
- 30 -
Contact: Strathcona County Communications, 780-410-6595