2014 Canada 55+ Games kick off with ATCO torch relay
August 25, 2014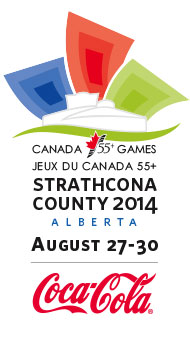 Strathcona County is kicking off the 2014 Canada 55+ Games on Wednesday, August 27 with the ATCO Torch Relay. The ATCO Torch Relay includes seven different torchbearers from Strathcona County and area who will carry the torch from Millennium Place to the Strathcona County Community Centre, beginning at approximately 10:30 a.m. and finishing at approximately 11:40 a.m.
"We are thrilled to officially kick off the 2014 Canada 55+ Games and to have the support of ATCO as our Torch Relay and Opening Ceremonies Sponsor," says Mayor Roxanne Carr. "The six local torchbearers reflect the energy and enthusiasm our entire community has for these Games."
"For over 25 years, ATCO has been a steadfast supporter of amateur sport and athletes in Alberta," said Keith Carter, Senior Vice President, ATCO Gas. "We're pleased to continue this tradition by sponsoring this year's Canada 55 Plus Games in Strathcona County that showcases the talents and vitality of Canada's more experienced athletes."
The Official Torchbearers were chosen by an online application in which they submitted a photograph of themselves pretending to be torchbearers and wrote what "Happiness is health," the Games slogan, means to them.
The torchbearers include:
Ken Davison, a local runner who hopes to complete 100 marathons, he is currently at 83.
Rathish Selva, a Sherwood Park resident who has been inspired and motivated by the Canada 55+ Games.
Peggy Sagriff whose husband Don is competing in the Games in hockey and their grandsons Gianluca and Guliano Pasutto.
Clara Chernichan, who will be competing in Cribbage in the Games.
Marion Welsh, a Sherwood Park resident who truly believes that staying healthy and active gives us a happy perspective on life.
Heather Nedohin, a world renowned curler from Sherwood Park who is a former Canadian and World Junior Champion, Scott Tournament of Hearts Champion and a World Bronze Medalist.
After the ATCO Torch Relay, the Canada 55+ Games cauldron will be lit at 10 p.m. on Wednesday, August 27 at Broadmoor Lake Park in conjunction with a spectacular fireworks display. The public is invited to come enjoy the fireworks from the Kinsmen Leisure Centre. 
For more information on the 2014 Canada 55+ Games, including full competition schedules and results 
or call 780-467-2211.
Set in the centre of Alberta's energy and agricultural heartland, Strathcona County is a thriving, successful and vibrant community of more than 92,000 residents. Strathcona County is made up of the urban area of Sherwood Park and a large adjacent rural area of farms, acreages and smaller hamlets. It is home to 75 per cent of refining in Western Canada. With a focus on economic, governance, social, cultural and environmental sustainability, Strathcona County is committed to balancing the unique needs of its diverse community.
- 30 -
Contact:
Elizabeth Tadman-Kickham
Marketing Leader
2014 Canada 55+ Games
780-464-8254
Erin Newell-Lupien
Senior Advisor, Community Relations
ATCO
780-420-3419