Be in the know-sign up for local emergency alerts
January 14, 2014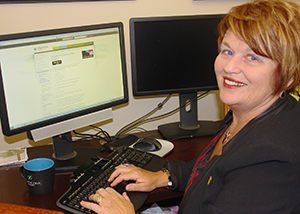 Beginning January 14, 2014, residents are encouraged to sign up to receive emergent, significant and time sensitive emergency alerts affecting Strathcona County. This is the first municipal mass community system of its kind in Alberta.

The Strathcona County Alert System (SC Alerts) sends emergency messages to voluntary subscribers. Subscribers can choose to receive messages through the following options: home phone, work phone, cell phone, email and SMS text messages. Residents can also choose to receive urgent notifications about events that may affect their home, workplace, family's schools and more.
"Resident safety is top of mind in Strathcona County," said Mayor Roxanne Carr. "This system is designed to transmit vital information directly to our residents, in a method that works best for them."
The Strathcona County Alert System will issue messages about emergency alerts (immediate threat to safety and well-being of some/all Strathcona County residents), severe weather warnings and watches (sent when Environment Canada issues weather alerts) and public safety notifications, including water, fire, RCMP and transportation alerts.
"When minutes count, timely emergency notification can save lives and limit damage. Sign up today at www.strathcona.ca/scalerts ," said Iain Bushell, Fire Chief, Strathcona County. Residents can also sign up by calling 780-410-8550.
In the event of a local disaster, Strathcona County residents will also be notified through the provincial Alberta Emergency Alert system (www.emergencyalert.alberta.ca).
Residents are encouraged to sign up for both the provincial and local notification systems. Information will also be communicated through the Strathcona County website, local media outlets, social media, electronic signs, industry UPDATEline (1-866-653-9959) and door-to-door visits by emergency personnel (if necessary).
The Strathcona County Alert System is powered by Everbridge. The alert system has been used by organizations in more than 100 countries for emergency notification and day-to-day incident communication operation needs. For example, the Everbridge emergency alert system was used by the City of Boston during the Boston Marathon bombings.
Set in the centre of Alberta's energy and agricultural heartland, Strathcona County is a thriving, successful and vibrant community of more than 92,000 residents. Strathcona County is made up of the urban area of Sherwood Park and a large adjacent rural area of farms, acreages and smaller hamlets. It is home to 75 per cent of refining in Western Canada. With a focus on economic, governance, social, cultural and environmental sustainability, Strathcona County is committed to balancing the unique needs of its diverse community.
- 30 -
Contact:
Mayor Roxanne Carr, 780-464-8000
Iain Bushell, Fire Chief, Strathcona County, 780-416-6754