Healthy at home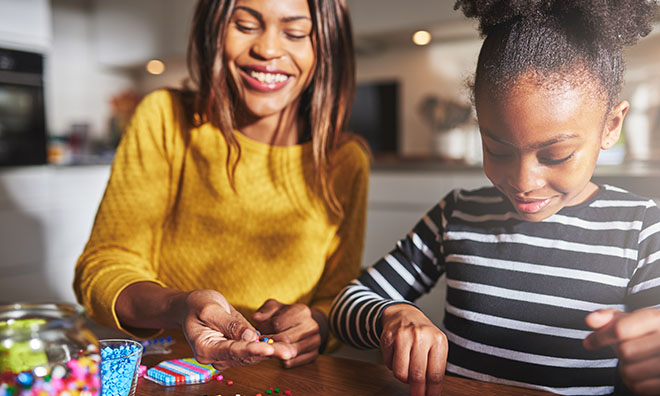 Looking for ideas to have fun at home?
Check out our "It's Good to Be Bored: Ideas to unleash your creativity" booklet for at-home activities. In this booklet, you will find:
17 Active / Movement Activities
Ideas for creating a creative toolkit
14 Quiet Activities 
Keep kids learning
The Strathcona Library has curated a number of online resources to keep young brains engaged and thinking while school is closed. 
---
Resources from Family Community Services
"Anything that is human is mentionable, and anything that is mentionable can be more manageable. When we can talk about our feelings, they become less overwhelming, less upsetting and less scary." Mister Rogers
Given the evolving information and precautions about COVID-19 (Coronavirus), children may hear troubling information from radio, television, social media and through discussions at school, home and with peers. As children try to make sense of what they are hearing and seeing, it is normal for them to feel worried or scared and have questions. 
As parents and caregivers, it is a natural response to want to protect our children and families from harm and shield them from uncertainty, traumatic events and our own worries.
There are some things that adults can do to help children make sense of their experience, support their ability to cope and strengthen their resilience.
---
Tips to support children
While it's important for adults to stay informed and up-to-date with current information, media coverage may be confusing and frightening for children. Exposure to reports and stories can overwhelm children, regardless of their age.

Before responding to your child's questions, try to discover what your child knows about the situation. Children can experience stress when they don't understand the information they are hearing. Try to identify your children's specific fears, and then talk to them to help ease their concerns. There is a delicate balance between answering questions without creating more anxiety. Educate yourself with information from reliable sources. Tailor your responses with your child's age in mind.

Children need attention to know they are safe. Talk, play and, most importantly, listen to them. Find time to engage in special activities with children of all ages.

Children often feel powerless during distressing events. Helping them take action by finding ways to engage them in ways that they can help contribute to solutions. For instance, practicing healthy behaviours like handwashing, cough and sneeze etiquette, eating healthy, being physically active and getting enough sleep.

It is not uncommon for children to behave differently when they are distressed. Parents and caregivers can monitor their child's behaviour for any significant changes in sleeping patterns, eating habits, and concentration levels. Also watch for wide emotional swings or frequent physical complaints. These symptoms of stress typically lessen overtime however, if they persist you may want to seek professional support for your child.

Not every child will experience events in the same way. As children develop, their intellectual, physical and emotional abilities change. Younger children will depend largely on their parents to interpret events. Older children and adolescents will get information from various sources, such as friends and social media. Remember that children of any age can be affected by distressing events. It is important to provide them with support and calmness throughout the crisis period and afterwards.

Your children will learn how to deal with these events by seeing how you respond. The amount you tell children about how you're feeling should depend on the age and maturity of the child. You may be able to disclose more to older or more mature children but remember to do so calmly.

Make a point of being sensitive to those impacted by the situation. Be mindful of language that may discriminate against those who have been exposed to the virus and are self-isolating at home. This is an opportunity to teach your children that we all need to help each other.

Try to adhere to a predictable schedule. When children are distressed, they benefit from a routine they can rely on i.e. meal time, bedtime, playtime, homework, etc. If there are disruptions such as events or activities being cancelled reassure your child that it is a temporary measure meant to keep everyone healthy.
---
Tips to support your own self care
It is not unusual for parents and caregivers to become preoccupied with the details of the crisis in order to assure safety and wellbeing for their loved ones and themselves. There are some common caregiving traps that can interfere with processing details of the event in a healthy way.
There are often incorrect or fabricated pieces of information that are circulated via social media and news reports. Guard yourself against unhealthy speculation, gossip and preoccupation with the situation.

Debriefing with other adults about what is happening and getting support to help you with your strong emotions is a healthy way of coping, self-care and building your resilience.

Sticking to schedules and established routines helps everyone in the family return to normal and stay on track. Predicable routines help all family members anticipate and plan their days.

Being exposed to others distress can deplete your own reserves. In providing care and support to others, remember to take the time to care for yourself.

Connecting with those that are important in your life helps you to feel supported and safe. It is key to our mental health and sense of belonging to reach out to others.

Minimize the amount of time spent thinking about the negative aspects of the situation as that often leads to feelings of helplessness and despair. It is helpful to engage in activities that distract your attention away from the event.