Guidelines for sharing trails and outdoor spaces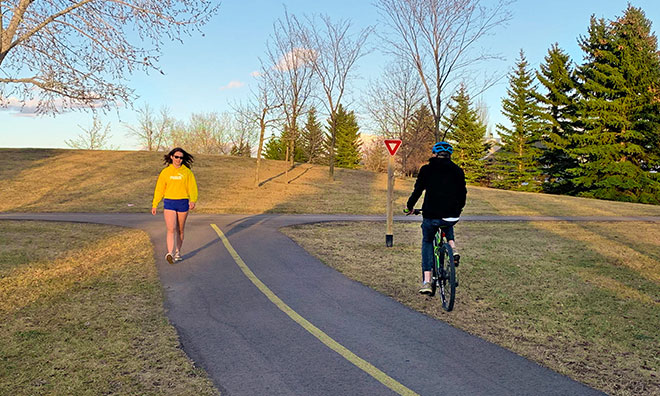 Learn how you can safely enjoy the outdoors while maintaining physical distancing
You may wish to keep 2 metres (6 feet) apart from others while enjoying the paths in your neighbourhood.

Stop the spread. Avoid touching communal surfaces and wash or sanitize your hands frequently.
Think of others
Think about your speed in relation to the speed of others on the path. As you approach other path users ensure that you slow down, move over, warn others of your presence and give enough space to pass safely.
Sharing the path
People of all ages and mobility enjoy the outdoor paths. Please be considerate and aware of all path users.

All cyclists should be using their bell when passing others on the paths. When you are approaching someone, ring your bell, slowdown, and pass off path when safe to do so.

If you are using the paths and you hear a bell, please slow down, look around, and move off path if you need to.

Runners please allow enough room to safely pass others.
Passing off-path
When you approach someone else while on the path, you may wish to pass off the path to stay 2 metres apart.
Thank you for being considerate and aware of others while using the paths to stop the spread of COVID-19.