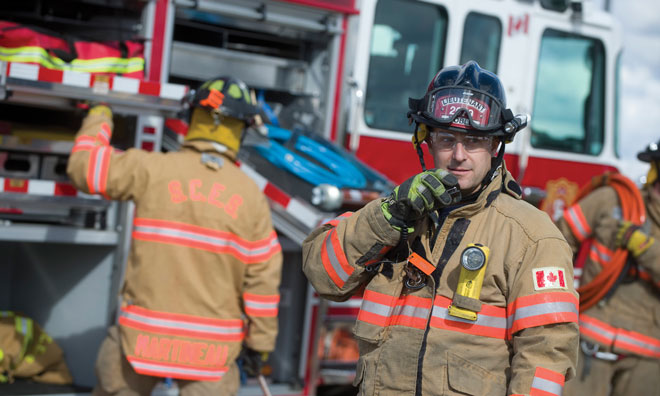 Next recruitment opens March 2023
Fire and EMS services from Strathcona County, St. Albert and the City of Spruce Grove have joined efforts to conduct a regional recruitment campaign. Qualified candidates interested in working for a fully integrated fire and EMS service will have the opportunity to submit their resume during the active recruitment.
The joint regional Firefighter/Paramedic recruitment process is a comprehensive multi-phased, competitive, fair and equitable process that results in the most suitable candidates being offered employment. You must be successful at one step in order to move on to the next. It is your responsibility to address all the requirements, meet deadlines, and be available to attend scheduled assessment dates. 
Fees
Our application testing procedures run on a cost-recovery basis. If a fee is associated with a process step, it is noted below. 
Step 1. Application
On-line applications will only be accepted during a recruitment campaign. Please note: all applicant information including resumes, testing results, etc., will be shared and viewed by all departments in the joint regional recruitment campaign.  
Applications for the current recruit are ONLY being accepted via on-line application.
Fire Services and Human Resources representatives from each department will review applications and a score is then determined based on an applicant's education, qualifications, training, and work experience. If minimum qualifications have not been demonstrated, the application will not receive further consideration.  
Applications will be evaluated to ensure the following requirements and qualifications have been met before the candidate advances to the next step.
Minimum qualifications
You must meet the minimum qualifications on the date you submit your application. Please refer to www.nfpa.org to view the NFPA1582 Standard on Comprehensive Occupational Medical Program for Fire Departments, Chapter 6 – Medical Evaluations of Candidates for disqualifying medical conditions.
Supporting documentation is not required at the time of application unless otherwise specified. Although these documents are not required when you initially apply, applicants who are shortlisted may be asked to produce them in a very limited timeframe. We highly encourage you to begin acquiring copies of these documents as soon as possible. 
Your documentation must include legible copies of official credentials. In some instances, you may be asked to submit an original, unaltered document. 
It is your responsibility to understand the qualifications and accepted types of supporting documentation before you apply. 
If you are found to have falsified or intentionally misrepresented your credentials, you will not be allowed to proceed, and future applications will not be accepted from you. 
You will need to maintain your qualifications throughout the assessment processes. Re-certification or further validation of credentials may be requested. 
Documents required             
Proof of valid Alberta College of Paramedic registration number
Proof of NFPA 1001 – Level I and Level II
Driver's License Abstract with 6 demerits of fewer - dated no earlier than 3 months prior to interview date
Criminal Records Check – dated no earlier than 3 months prior to interview date, including vulnerable sector check 
ACLS Certification
PALS Certification
ITLS Certification
You will be asked to provide a complete record of your immunization of documentation from a medical authority if you are to complete the medical exam. 

COVID-19
Measles (Rubeola)
Tetanus (<10 years)
Mumps
Diphtheria (<10 years)
Rubella (German measles)
Hepatitis - B

Other Supporting Documentation
We will review your application and you be advised by email ONLY if you are moving to the next step. Candidates who do not meet the requirements will not advance to the next step. You will not be contacted if you are not selected to move to the next step. 
Step 2. Aptitude/Knowledge test
If selected to continue in the recruitment process applicants will be invited to write a Knowledge Test. The test will measure a variety of areas that include 
Understanding Oral Information 
Reading and understanding written information
Numerical skills
Maps, Diagrams and Mechanical Reasoning 
Teamwork/Public Relations/Community Living
Applicants will be advised of the location and time of the assessment. The tests must be written at a pre-determined location; no out-of-town or supervised exams will be allowed. It is a multiple choice, computer-scored test that will take approximately 2 hours to complete. A third-party service testing company analyzes the overall results to determine scoring.
There will be no re-writes. Applicants will advance to the next stage of the recruitment process if they pass the minimum accepted threshold.
Following the test, you will be advised by email if you are, or are not, being invited to move to the next phase of the recruitment process.
Step 3: Pre-employment Firefighter Physical Fitness Assessment
The first phase of the selection process each applicant is required to complete is the Firefighter Physical Fitness test that measure a firefighter candidate's minimal physical fitness level and ability to perform essential tasks at emergency scenes. The University of Alberta's Faculty of Kinesiology, Sport and Recreation administers this test. 
This portion of the recruitment process is paid for by the candidate. The cost of the testing must be paid in full when booking your appointment to secure your testing time. The cost of the fitness test is $388. 
We will accept any successful result from the University of Alberta that was conducted in the six months preceding the date of application (i.e. if you apply on March 1, 2022 then we will accept your result at the U of A that was conducted on September 1, 2021 or later).
Please visit University of Alberta Firefighter Fitness Testing as it contains a wealth of information, including a general information package and contact information.
Following the test, you will be advised by email if you are, or are not, being invited to move to the next phase of the recruitment process.
Step 4: Medical knowledge testing (OSCE)
The medical knowledge testing is designed to evaluate the applicant's knowledge and skills to provide pre-hospital care to the sick and injured. The test is made up of the following components:
Multiple choice
Long and short answer questions
Medical scenario with a simulator
History taking scenario
Pharmacology (if you are an Advanced Care Paramedic)
The Objective Structured Clinical Examination (OSCE) consists of an examination and a scenario conducted by an independent third party. OSCEs provide an objective manner to evaluate each candidate for demeanour, professionalism, medical knowledge and skills. Multiple choice, short and long answer questions are used to investigate the candidate's knowledge. Scenario testing is used to review a candidate's history taking, treatment and decision making with a simulator. Examinations and scenarios are appropriate to a candidates ACP registration level scope of practice.
Following the test, you will be advised by email if you are, or are not, being invited to move to the next phase of the recruitment process.
Step 5: Panel Interview
If selected, you'll be asked to submit a YouTube video that is no more than three minutes in length telling us why you have chosen this career and what you feel has prepared you to be successful as Firefighter/Emergency Services Personnel in an integrated fire service. 
Our interview format offers each candidate an opportunity to meet with three interview panels, comprised of representatives from each municipality. You will speak with each panel for 30 minutes. Each panel will ask a different set of five questions and many of the responses are suited to the STAR (Situation, Tasks, Action, Results) format. 
This is an in-depth structured assessment of specific selection criteria, as well as an opportunity to verify some of the information provided on the application form. 
Teamwork/interpersonal skills 
Honesty and integrity 
Motivation and preparedness 
Adherence to authority 
Stress tolerance and stamina 
General ability 
Presentation and oral communication skills
If selected for a Panel Interview the following information will be requested to bring with you: 
Copies of all relevant certifications 
References – three (3) work related contacts 
Copy of Driver's License and Driver's Abstract showing a satisfactory driving record (6 demerits or fewer). A valid Class 3 drivers' licence and Air Brake (Q) endorsement must be obtained prior to the employment commencement date.
Reference checks are typically completed following a successful panel interview. Conducting of reference checks does not necessarily indicate advancement to the next step. The candidate's overall results at this step will determine if the candidate advances further. 
Candidates who do not meet the requirements will not advance to the next step. You will be advised by email if you are, or are not, moving to the next phase. 
Step 6: Letter of Conditional Offer
All information in your application file will be reviewed on your suitability for hire. After a decision is made, you will be advised if you have or have not been selected to move on to the next step. 
The final decision is made on the selection of a fully qualified candidate and that person will be provide at least one conditional letter of offer to be reviewed and signed. Note that a criminal records check – vulnerable sector is required upon offer and is a condition of employment.  
As part of the regional recruit, all letters of offers will be provided to the candidate on the same date, so a candidate may receive up to three (3) letters of offer, one from each department.  The candidate may make the decision of which municipality to work for. Once that decision is made, the candidate is then removed from the list and would not be eligible to be hired from another department until the next recruitment process when the candidate would have to apply again.
Unsuccessful candidates will be notified by email. 
Step 7: Pre-placement medical as per NFPA
Candidates who are selected will be scheduled for the Pre-Placement Medical as per NFPA standards. The job is both physically and emotionally demanding, therefore, candidates must be in excellent physical condition as well as in good health. Departments follow the pre-placement NFPA medical guidelines and are strict with the use of tobacco products. For example: Candidate with Category A medical conditions shall not be certified as meeting the medical requirements of this standard. Tobacco use is a Category A medical condition. 
There is no grade or mark to this examination - either a candidate is "fit for duty" or is "not fit for duty" and is so informed. A candidate that is "fit for duty" will proceed in the recruitment process. 
The final decision is made on the selection of the Firefighter and will be provided via a formal letter of offer to be reviewed and signed. 
Eligibility list
If selected, your name will be placed on an eligibility list pending future job openings until the next Regional Recruitment. If a position becomes available, you will receive a conditional job offer, pending the results of a pre-employment medical assessment and any other conditions of employment being met. 
To remain eligible, applicants must maintain:
A valid Alberta Class 3 Drivers' License with airbrake endorsement or proof of equivalency 
A Driver's Abstract of six or less demerits 
An original Police Information Check or Criminal Records Search or Criminal Record Information including Vulnerable Sector Check that has not disclosed or located a criminal record or record of criminal convictions  
Physical fitness - maintained to at least the level that was determined by the University of Alberta Physical Fitness Test 
Strathcona County Emergency and Spruce Grove Fire Services reserve the right to access candidates from the Eligibility List at any time during the recruitment process. 
Note: The firefighter recruitment process is subject to change as per operational requirements.