Smart Cities Challenge
Finalists announced
Strathcona County was not selected as a finalist for the Smart Cities Challenge. Although disappointing, the development of our submission itself was a positive experience, with great conversations and forward thinking possibilities.
Last Modified: July 8, 2021, 2:03 p.m.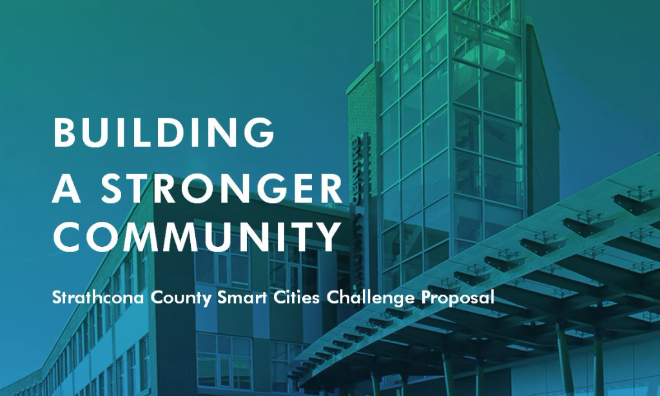 Strathcona County is excited to have entered the Government of Canada's Smart Cities Challenge. Our application's eligibility has been confirmed for Jury Evaluation. It is our community that stands to win through our proposal to ultimately achieve the outcome defined in our challenge statement.
Our Challenge Statement
"Feel Connected and Included"
Citizens will have access to a trusted community platform that connects them to programs, services and each other to increase the feeling of safety, inclusion and connectedness.
Community Talk 
"Community Talk" was a community engagement initiative to renew our Social Framework. It created a space for honest conversations about how residents can best support each other at all levels of community.
The results revealed that Strathcona County faces challenges as a rapidly growing community and that citizens want to work together towards a common goal and feel a strong sense of community through their relationships with each other.
Our proposal
The Smart Community Platform
Strathcona County's Smart Cities Challenge submission proposes using technology to create a Smart Community Platform to support a more connected and inclusive community.
The key product to be delivered is a "Community Digital Hub" to serve these four pillars:
To connect program and service offerings
The Community Digital Hub will create connections between and within citizens and public, private, and non-profit organizations. It will be not only scalable but also replicable in other municipalities with similar needs and characteristics. It will abide by open architecture, open data, and interoperability design principles.
To connect citizens with each other
The Community Digital Hub will understand the nuances of user needs and demographic/psychographic characteristics to match them with programs and services that improve their connection with other citizens, as well as increase their sense of inclusion in the community.
To create a smart data hub
The data collected through the Community Digital Hub will form a "Smart Data Hub". This hub will contain transactional, behavioural and sensor type data, and part of this data will be shared publicly through Strathcona County's Open Data Portal.
To enable the County of the future
The Community Digital Hub will use cognitive intelligence to enable proactive planning capabilities.
Reaching out to partners
Strathcona County has a robust network of partners to collaborate with, including business partners, education partners, emergency services organizations, and social-serving organizations. Through successful past collaborations and having a shared vision to improve connectedness within Strathcona County, several of these organizations have indicated support for the Challenge Statement and Smart City outcomes.
About the Smart Cities Challenge
Smart Cities Challenge encourages communities to address local issues through smart data use, connected technologies and partnerships. The competition intends to inspire ideas and knowledge sharing for the benefit of communities across the country.  
Finalists will be announced this summer. Each finalist will receive a grant of $250,000 to develop and submit their final proposal, due Winter 2019. In Spring 2019, two prizes of up to $10 million will be awarded in the category of populations under 500,000 to implement their Smart Cities Challenge initiative.