The Slab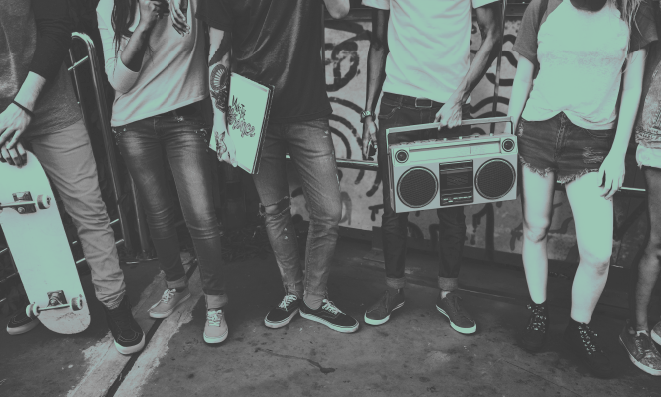 The Slab is a youth-driven space for fun and connection.
The Slab is a popular youth-specific outdoor gathering space for hanging out, messing around and geeking out over the summer months in Strathcona County.
Intended as a casual gathering space for youth, The Slab is designed to incorporate the ideas of HOMAGO (Hanging Out, Messing Around, and Geeking Out) which has been used in youth spaces ranging from Calgary to California. Through this method, we intend to create an inclusive and fun space for youth, a place where they can interact with amazing things like music, art, board games, and photography. And it will be a place where youth are allowed to just be their natural fun-loving selves. 
The Slab was designed through different engagement sessions throughout the county, asking youth what they thought about community and what they would like to see in a space for them. Therefore, The Slab will help inform us of how youth connect to the community, and how youth can be a part of creating an inclusive and connected community for everyone.
The Slab will be open starting June 25th in two locations stated below (weather permitting):
Tuesdays 2 to 8 p.m. in the East Plaza of the Community Center
Wednesdays 2 to 8 p.m. in the Ardrossan Rec Center
Thursdays 2 to 8 p.m. in the East Plaza of the Community Center
Fridays 2 to 6 p.m. in the East Plaza of the Community Center
What is HOMAGO?
HOMAGO , which stands for Hanging Out, Messing Around, and Geeking Out, was a term created by Mimi Ito plus a number of researchers from the Massachusetts Institute of Technology (MIT), who were studying how youth were engaging with media online. They noticed that they would do engage with media in one of three ways: One was friendship-driven participation which they called "Hanging Out" was the majority of the way they would interact with others online, which is not much different from what they would do in the lunchroom at school. Two was that a small minority would take this as a jumping off point in which they would try to learn a new skill through that participation, they would try to make their own media or create something from a media that didn't know about, this is the "Messing Around." Lastly, the youth that was trying new skills were also trying to learn more about them, either from their friends or from experts, this was them "Geeking Out."
Youth spaces from around the world have been developed using this concept, and we have decided to adapt HOMAGO into The Slab. Therefore, teens that visit The Slab will be able to have space where they have those friendship driven interactions as well as be able to play around with new skills they learn at The Slab. Throughout the summer we'll have amazing experts teaching youth new ways to interact with their community, either through art, through writing, through music, and beyond. The Slab will also be open for youth to just hanging out and be their playful selves without having to interact with structured activities if they don't want to.
If you to learn more about HOMAGO, please check out Yollocalli's guide to HOMAGO.  
Follow The Slab on Instagram, Twitter, YouTube, and Snapchat. Don't forget to follow the hashtag #TheSlab
More information