Choose Kind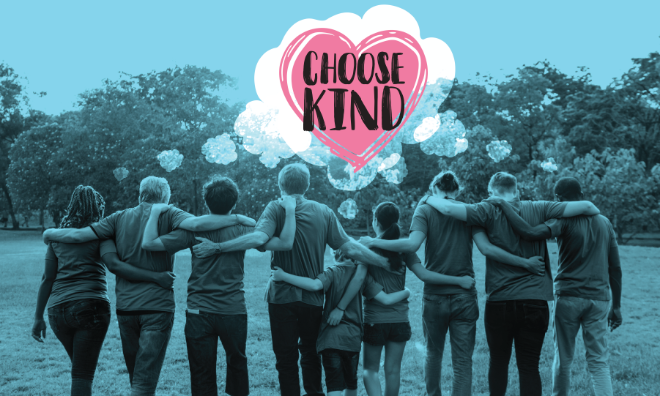 Join us in celebrating kindness
A free movie screening of Wonder
The community is invited to a free indoor movie screening of Wonder on February 29, 2020. This free event runs from 1 p.m. to 4 pm. at the Ardrossan Community Theatre in Ardrossan Junior Senior High School (53129 Range Road 222, Ardrossan). Wonder inspires all of us to choose kind and connect to one another and value and respect our individual differences.
The Bee Kind Workshop
Being kind can enhance positivity, change your perspective and create a sense of community. Join us on February 11, 2020 at the Be Kind Workshop to learn how to make a reusable beeswax wrap that you can give to a friend or stranger as an act of kindness. You will also learn about how to bring native pollinators to your backyard as well as how to keep the food they help make, out of the landfill.
Healthy relationships are built on trust, safety and respect. We all want to feel safe and connected to others. One way we can achieve this is by being kind and respectful to ourselves and others.
Did you know that being kind can help reduce anxiety and depression and promote physical and mental wellness? Its the science of kindness!
Join the Choose Kind movement! It's easy!
Plan an act of kindness. If you need some ideas or inspiration on how to be kind to yourself, others or the environment KindSpring lists kindness ideas by category. 
Perform the act of kindness and enjoy the benefits of overall self-worth and well-being.
Inspire the community by sharing your acts of kindness online #SCchooseKind!
Empower others with your words online or in person and use THINK before you say something. Ask yourself if it is: True, Helpful, Inspiring, Necessary and KIND!
Throughout February, everyone is invited to join the Choose Kind movement and support our community-driven social outcomes of safety, connectedness & inclusion. This year's Choose Kind initiative includes activities related to Safer Internet Day, Random Acts of Kindness Day and Pink Shirt Day.
Follow @strathcocounty on Instagram to hear stories of kindness in our community throughout the month of February.
https://www.huffingtonpost.com/peter-field/kindness-research_b_7054652.html

Small actions can have a significant positive effect on others, including increased overall sense of belonging, self-worth and feelings of safety. Those who share kindness also benefit from higher overall feelings of well-being and self-worth.

Did you know…

Giving and receiving kindness reduces stress, depression and anxiety.
Sharing, experiencing and witnessing kindness helps us to feel calm and happy, which contributes to our overall health.
You can be kind to yourself by focusing on things that make you feel confident and proud of yourself.
Kindness is contagious! When you are kind to someone, they feel good and are likely to be kind to others. It starts a chain reaction of kindness!

http://www.kindspring.org/ideas/

We challenge all community members to flood the internet with kindness . Capture and spread kindness using the hashtag #SCchooseKind

The month of February contains opportunities for us to support the community-driven social outcomes of safety, connectedness & inclusion and larger campaigns including:

"Safer Internet Day is an invitation to join in and engage with others in a respectful way in order to ensure a safer digital experience. You can help by pledging to keep the internet a safer place for all. Go online and post your commitment to "Create, safe, supported and connected community. A better internet starts with you."

Choose Kind challenge: Join the challenge and step up your kindness and express your gratitude to others during the week. Help spread kindness and inspire others.
For a list of kindness ideas check out randomactsofkindness.org

THINK before you post or say something. Ask yourself if it is: True, Helpful, Inspiring, Necessary and KIND.
Be a champion and show your support towards healthy relationships and ending bullying by wearing pink.
Capture and spread kindness #SCchooseKind

Bullying can happen wherever people gather to live, learn, work or play, online and off.
Bullying is not rude or impolite behaviour. Being mean can be mistaken as bullying behaviour.
Bullying is intentional, targeted, abusive behaviour that causes harm to another person.
Bullying is defined by the use of aggression, repeated over time, by a person with greater power towards a person with lesser power.
Bullying is never acceptable. Everyone has the right to be treated with respect and to feel safe.

We can make a difference to those who are affected by abuse and bullying by letting them know they are not alone. Ninety percent of bullying incidents are witnessed by others and can be stopped within 10 seconds when bystanders choose to intervene.

What can you do when you see someone being bullied? Witnesses to bullying can help by not encouraging bullying, telling the bully to stop, getting help and supporting the person who is targeted.

The key to end bullying is to build awareness and understanding and promote respectful and healthy relationships.

Healthy relationships are built on a foundation of trust, safety and respect. We all want to feel safe and connected to others.

One way we can achieve this is by being kind and respectful to ourselves and to the people around us. In every moment, we have a choice about what we say and do. In that moment, choose acceptance and kindness.

When we practice kindness, compassion and respect for one another, we build connections in our relationships and communities. Together, we create a supported, safe and caring community for all.

Counselling: Professional counselling, without appointments

Counselling is available by walk-in during the day and some evenings
Pay what you can afford, starting at $0
Our team includes registered psychologists, social workers, credentialed volunteers and graduate students
You will leave sessions with an action plan and information to support you in achieving your goals

Counselling Groups: Free, facilitated education and support counselling groups for adults

All adults welcome
Snacks and coffee provided
Registration upon arrival
Open weekly to new participants

Bullying Helpline
24 hours, 7 days/week, help in over 170 languages
1-888-456-2323
Kids Help Phone
24 hours, 7 days/week
1-800-668-6868
PREVNet
A national network of leading researchers and organizations, working together to stop bullying in Canada
About Mental Health Capacity Building
Helping to create a supported, safe and connected community: Strathcona County's mental health capacity program is made possible through Alberta Health Services and Strathcona County.
Want to find out more about Mental Health Capacity Building and its initiatives?
Disclaimer: Family and Community Services wants to empower residents by giving them the tools to improve their personal wellbeing and relationships.  Some of the information provided is offered by external sources and is intended as an information resource only. Strathcona County is not responsible for the accuracy, reliability or currency of the information supplied by external sources. Users wishing to rely upon this information should consult directly with the source of the information. 
For more information: