Volunteer for Canada Day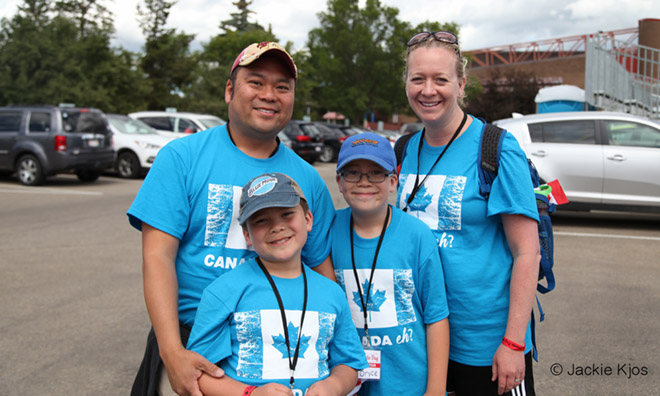 Join us for Strathcona County's largest annual community festival. Canada Day 2020 will be unforgettable - be part of the fun!
What are the details for the Canada Day festival?
When: Wednesday, July 1, 2020
Where: Broadmoor Lake Park (inside and outside)
Volunteer shift lengths are flexible (i.e. 4 hours, 6 hours, 8 hours)
10 a.m. – 2:30 p.m.
10 a.m. - 5 p.m.
2 p.m. – 5:30 p.m.
5:30 p.m. – 11 p.m.
7 p.m. – 10:30 p.m.
What are the volunteer benefits?
Exclusive volunteer contests
Meals, snacks and beverages during the event
Canada Day T-shirt
Invitation to a special reception for volunteers who work a 6+ hour shift. Must attend reception for a chance to win a bicycle.
Free transit within Sherwood Park from your local bus stop to the Park N Ride.
Meeting new friends
Representing our community
An insider's view of Strathcona County's largest festival
An email link to enter to win the volunteer contests will be sent to each volunteer during the last week of June.
What are the qualifications I need?
The desire to have fun and help make our community event a huge success
We ask that those under the age of 12 have a parent/guardian or older sibling volunteer with them
What position is meant for you?
Volunteer Room or Information Booth
Interactive areas: edible art, hair fun, totsland, garden zone, Coke floats and wax hands
Games like: off road monster trucks, remote control race cars, laser tag, rat race, and giant backyard games
Ticket collecting
Crafts: t-shirt making and splatter art
Wagon rides and petting zoo
And more!
---
Honorarium / group fundraising opportunity
Are you a fun and outgoing not-for-profit group of 14 or more people? Are you available July 1 for the following shifts?
4 people from 8 a.m. - 12 p.m.
10 people from 10:30 a.m. - 4:30 p.m.
Strathcona County Utilities is looking for a group to lend a hand and help make the Canada Day Festival waste-free! A $750 honorarium will be awarded for volunteering at the event.
Duties will include: 
Emptying the green organics carts at the pancake breakfast
Assisting with pancake breakfast set up and clean up
Handing out promotional products
Monitoring waste/recycling/organics carts in the event area and educating festival attendees about Strathcona County's The Green Routine
Helping move waste and organics carts off the field for the fireworks
It is possible for more than one group to participate in this opportunity. The honorarium would be split between the participating groups. 
For more information or to submit your group's information for consideration, please contact Erin Wildeboer.
Did you know?
Thanks to the help from our volunteers in 2019, we stopped 63% of waste from going into the landfill by recycling or composting it. We need your help to do it again this year.