Prairie Walk
Centre in the Park has been designed as a pedestrian-friendly area, and one of its inviting outdoor public spaces is Prairie Walk. This pedestrian walkway runs east-west linking the Community Centre and central plaza area with Festival Place and Sherwood Park's Heritage Trail system. Prairie Walk has been designed and landscaped to reflect Strathcona County's history, culture and natural environment.
Prairie Walk in Centre in the Park opened September 28, 2007.
Phase II, which included landscaping along the northern and southern sections was completed in October of 2011.
Tranquil setting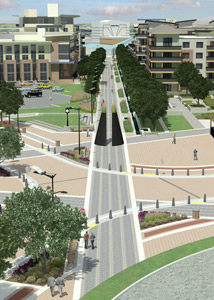 To enhance the aesthetic experience of Prairie Walk, a combination of natural and synthetic forms, texture, light and sound were added. Further landscaping with several groupings of rocks are now placed in harmony with plantings and lighting along the southern edge of the walk.
Individually selected stones and rocks that are shaped, polished and set will form seating areas, stopping points and zones for contemplation. Recordings of sounds taken from the natural prairie landscape will feed through directional speakers positioned within the rock groups. Low in volume and audible only at close range, the sounds will randomly repeat and combine various sequences, and turn off at night.
Other features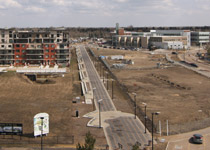 A distinctive water channel that runs the length of the paving stone pathway was funded through a $250,000 Alberta 2005 Centennial Legacies Grant
Seating along the water's edge and energy-efficient, indirect reflective light standards line the walkway  
Back to Centre in the Park