Community-builders in COVID-19: Follow up on the Country Convoy
Reflections with Jessica Lutz of the Ardrossan Recreation and Agricultural Society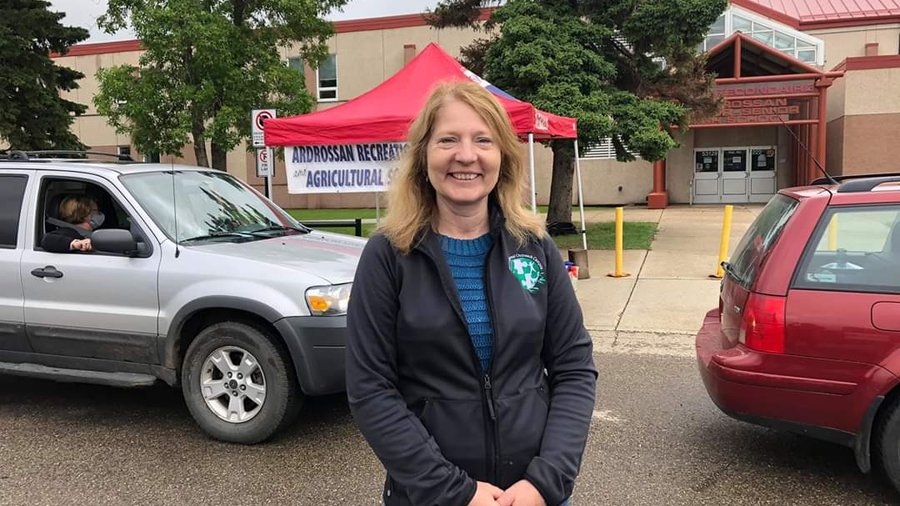 It has been a little more than a week since the Ardrossan Recreation and Agricultural Society (ARAS) and South Cooking Lake Community League hosted the first ever Country Convoy reverse-parade. The moving event snaked its way through Strathcona County providing a fun, relaxed and physically distanced bit of seasonal socializing, in the absence of the annual parade and picnic. Social Action got back in touch with co-organizer and ARAS board member, Jessica Lutz, to follow up on our pre-event discussion which was posted here on June 13. "[A] rain or shine event can sometimes be a flop if the weather turns. What was really cool about this concept was those viewing the parade had their own climate control," Jessica mentioned. 
"I kind of wonder if we would have had the same turnout during a rainy parade? We got really lucky, and the rain only lasted so long - everyone eventually got an opportunity to dry off and enjoy some sunshine." 
When describing some of highlights of the event, Jessica told us "[we] had some really awesome volunteers/displays at the respective locations, but what made this concept extra fun, was that participants in the convoys themselves, or local residents along the parade route were able to bring their own fun too!" The ways in which residents expressed themselves ranged from people decorating their own vehicles to dressing up. One local company went big, as Jessica notes "... we even had a local towing and recovery company that brought the party with their big trucks! You could tell when their convoy approached an area, they'd have their lights and horns going off - it was great." 
"There was a lot of local involvement, especially from the community of South Cooking Lake - residents (and their dogs) dressed up in Canada Day attire, flew flags, relaxed on their lawns, etc. There really was something for everyone", and the way Jessica describes the successes of this event it's hard to think many were even thinking about the usual annual parade and picnic. She told us that some people are already talking about preparing for "the next one." 
The parade was also broadcast and for a little while it is still available for those who want to listen and get a sense of the event by calling 1-888-744-1707. 
We are so thrilled to see Strathcona County community members finding all sorts of ways to build community and stay connected. The reverse parade is an innovative way to give the community most of what they would get from their annual parade and picnic, while keeping things safe and even spicing them up.