Pest Control
Agricultural pests and nuisances are defined under the Alberta Agricultural Pests Act as any animal, bird, insect, plant or disease which can destroy or harm any land, livestock or property.
Strathcona County works with residents to resolve pest control issues. Municipalities are given this responsibility under the Agricultural Pests Act.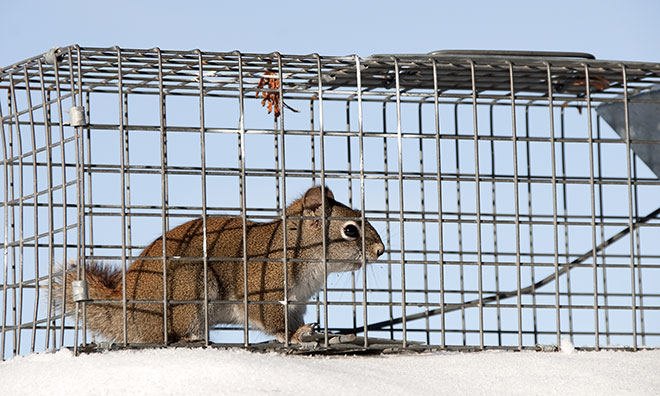 How can we help?
Strathcona County Transportation and Agriculture Services, assists residents with the removal of pests on private property. Contact us at 780-417-7100 for information on how to control problem wildlife.
Method of payment: Visa, MasterCard, Interac, cash or cheque.
Control of other pests
Information or assistance for the control of other pests is available by contacting Agriculture Services or the Province of Alberta's Fish and Wildlife Division at 780-427-3574.
Rodent and trap vendors
Strathcona County does not endorse any product or service listed on this page. We do not guarantee the accuracy or completeness of this information. Other businesses can be added to this list by contacting Transportation and Agriculture Services.
Clover Bar Feeds Ltd. - Bait blocks, box traps for small rodents

120 Portage Close, Sherwood Park
780-467-5014

G & E Pharmacy - Bait blocks, Liquid Rozol, pellets, glue traps, small rodent traps

7329 - 82 Avenue, Edmonton
780-469-7667

UFA Co-op - Liquid Rozol, Premix, bait blocks, pellets, leg-hold traps, pocket gopher traps

11111 - 86 Avenue, Fort Saskatchewan
780-998-3437

Halford Hide and Leather - Leg-hold traps, pocket gopher traps, Liquid Rozol, insect traps/repellents, animal damage control and trapping supplies

8629 - 126 Avenue, Edmonton
780-474-5552

Canadian Tire - Assorted baits, traps/repellents for rodents and insects

169 Ordze Road, Sherwood Park
780-449-1577

Greenland Garden Centre - Horticulture, agriculture pest products

23108 Highway 16, Sherwood Park
780-467-7557
County Connect
Ask it, report it or suggest it using County Connect
---