SCRAP Program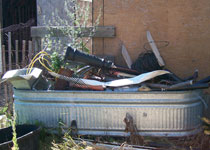 The Strathcona County Reduction of Abandoned Products (SCRAP) Program encourages residents to remove abandoned products from private properties so these items can be properly disposed or recycled. 

Residents are responsible for removing items from their properties.
Find removal companies to help you recycle or dispose of your items.
Learn more about the background of the SCRAP Program.
Environmental problems associated with abandoned products
An increasing amount of natural land within Strathcona County is being covered by and contaminated with abandoned materials, both in rural and urban areas. Examples of materials include:
vehicles
farm and industrial equipment
pipes
oil drums
scrap metal
spilled materials
Many of these items contain oil, diesel, battery acid and similar materials, which have the potential to leech into wetlands, watercourses, lakes and groundwater. This leeching negatively impacts water treatment costs, biological health and species diversity and even public health.
SCRAP Program removal and towing companies
The following local companies can remove or recycle abandoned products from private properties. Strathcona County does not endorse or guarantee the quality of services provided by external properties. 
Please note that there may be a cost for removing items. Please discuss costs with the removal company.
Alberta Rose Towing Services Ltd. 
Edmonton 
780-440-3515
Alberta Safe Towing Ltd.
Edmonton 
780-490-6711
All City Heavy Truck Towing Inc. 
Sherwood Park 
780-464-6966
CAC Recycling 
780-416-8007
Cliff's Towing Service Ltd.
Sherwood Park 
780-467-2600
Double L Towing 
Sherwood Park 
780-467-7795
Flat Rate Towing Inc.
Edmonton 
780-455-3192
H&M Towing 
Sherwood Park 
780-449-6519
K & K Recycling Services
Edmonton
780-977-9207
Kotelniski Enterprises - Kurt Kotelniski 
Sherwood Park 
780-991-8686
Majestic Towing 
Edmonton 
780-474-7498
Mike's Towing 
Edmonton 
780-413-0955
Solo Towing 
Edmonton & area 
780-952-1820
Speedy Scrap
Sturgeon County & area
780-868-8635
Questions?
Utilities
780-449-5514
greenroutine@strathcona.ca
Our sponsors