Beaver Hills Biosphere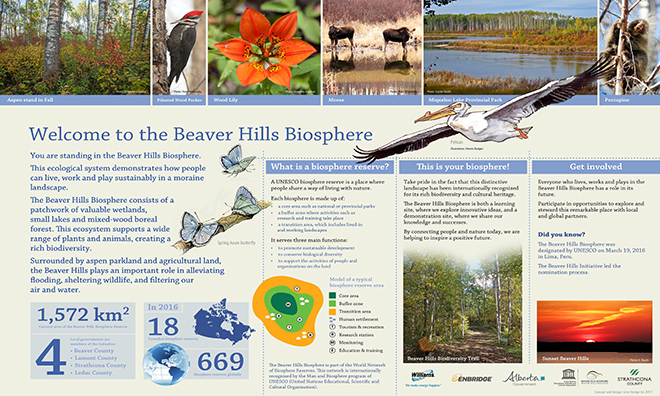 Beaver Hills Biodiversity Trail
The trail is located at 52535 Range Road 211. It is 1 km south of Township Road 530 (Baseline Road), on the east side of the Strathcona Wilderness Centre. GPS Coordinates: 53° 31' 47.7984'' N - 112° 58' 25.6656'' W. Strathcona County celebrated the opening of the Beaver Hills Biodiversity Trail on September 9, 2016 along with partners in the Beaver Hills Initiative.
View a map of the Beaver Hills Biodiversity Trail below, or learn more about trails in Strathcona County.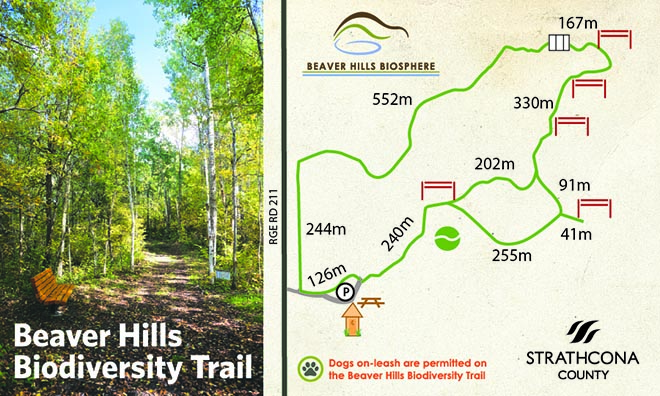 Beaver Hills Biodiversity Trail
The Beaver Hills Biosphere received UNESCO biosphere designation on March 19, 2016, at the 4th World Congress of UNESCO Biosphere Reserves in Lima, Peru. Located in the south east corner of Sherwood Park, AB and extending east of Elk Island National Park. (336.2 KB) The Beaver Hills is an extensively treed, upland area consisting of rolling to hummocky terrain rich in native wetlands and aspen dominated Boreal mixed wood forest habitat. The 'knob and kettle' topography supports a high diversity of vegetation, waterfowl, mammals and birds. The Biosphere is situated immediately east of the City of Edmonton - the fastest growing metropolitan region of Canada. 
The area is a critical source of surface and ground water, and a large proportion of lands, both public and private, exist in their natural state. 
The Biosphere includes Elk Island National Park, the five rural municipalities (Beaver, Camrose, Lamont, Leduc, and Strathcona County) as well as several provincial parks and protected areas, such as the Ministik Bird Sanctuary, Blackfoot/Cooking Lake Recreational Area and Miquelon Lake Provincial Park. Rapid growth in population and increased economic activity throughout Alberta and particularly in Alberta's Capital Region are placing unprecedented pressure on the Beaver Hills landscape.
Printable biosphere map sign (3.3 MB)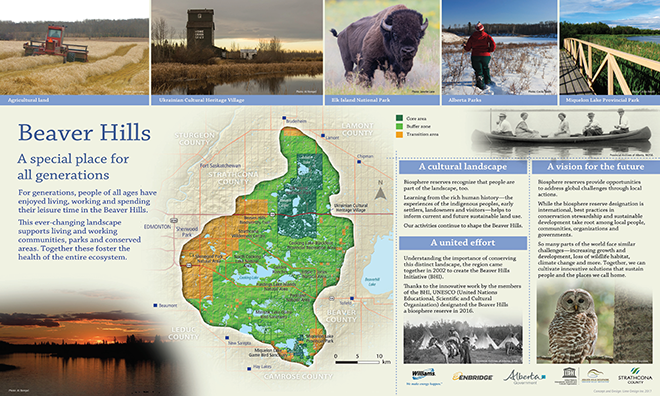 The Beaver Hills Initiative 
The Beaver Hills Initiative is a multi-stakeholder organization, governed by a board that works collaboratively to support the region, its natural beauty and quality of life. This is achieved through supporting cooperative efforts to sustain the quality of water, land, air, natural resources and community development. Strathcona County has been a proud member of the BHI since it formed.

In 2002 the BHI formed from a collective recognition among all levels of government, academia, industry and locally active environmental groups - For this ecosystem to remain sustainable, the sensitivity of these shared resources needs to be considered when planning growth and development. Currently 30+ organizations are part of the BHI. The BHI consists of a Board and the seven working groups listed below. Learn more about the BHI.
Research and Monitoring Working Group
Planners Working Group
Communication and Outreach Working Group
Elected Officials Working Group
Conservation Working Group
Beaver Hills Dark Sky Preserve Working Group
Beaver Hills Tourism Working Group
The BHI vision
The Beaver Hills Initiative values the region for its natural beauty and quality of life, and supports co-operative efforts to sustain the quality of water, land, air, natural resources and community development. Visit the Beaver Hills Biosphere website to learn more and register to receive the Beaver Hills Bulletin in your email.