Christmas waste collection reminders
Reminder about changes to collection for Christmas break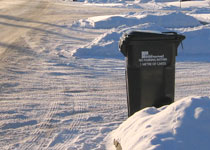 Both waste and organics carts and recycling will be collected on your regular collection day December 31, 2012 to January 4, 2013. If your collection day is Tuesday, January 1, your carts and recycling will be collected on Wednesday, January 2, 2013.
Please remember to place your carts a metre apart and to leave at least one metre between your carts and materials put out for recycling, fences, mailboxes, overhanging tree limbs, parked cars and any other object.
Recycling Christmas gift packaging
All wrapping paper that is not shiny, gift bags, cardboard and plastic packaging can go into a blue clear bag. Foil or shiny wrapping paper and non-reusable bows and ribbon go in the black waste cart.
Cardboard that cannot be folded or cut down to 30 cm x 90 cm (3 feet x 1 foot) can be taken to a recycle station for recycling. Cardboard larger than this doesn't fit inside the container in the truck. Place cardboard in your blue clear bag. If it doesn't fit, you can place it under your bag. Please do not use another box to hold the cardboard.
Be sure the lid on your cart can close completely. It is dangerous for the driver and can damage the truck if the cart is overflowing. It can also lead to litter in your neighbourhood. Extra bags of waste or organics not in the cart will not be collected. If the contents do not fit, save some for your next collection day.
Christmas tree pickup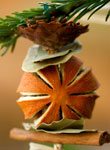 From January 7 to 18, 2013, residents who receive collection services from Strathcona County can put out their Christmas tree for collection. Please remember to:
cut your tree into four-foot sections
remove all tinsel, decoration and lights 
take the tree out of the tree stand
remove any plastic bags used to transport the tree
have your tree out for collection by 7:30 a.m. on your collection day
Snow clearing
Remember if there is snow clearing occurring in your neighbourhood you need to change how you place your cart out for collection.
Have a safe and Happy Holiday season!