Halloween safety
Enjoy a safe and fun Halloween.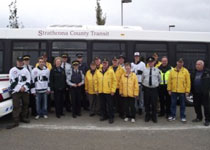 The Strathcona County RCMP is again teaming up with community partners this Halloween to ensure all trick-or-treaters enjoy a safe and fun evening of collecting treats in County neighbourhoods. Along with the RCMP, Strathcona County Transit, Strathcona County Citizens On Patrol and the Sherwood Park Crusaders Junior Hockey Club will all be involved in this years initiative. 

The Crusaders will be out walking various neighbourhoods wearing their white team jersey's and just like Citizens On Patrol, will be extra eyes and ears for police while youngsters are going door to door filling their treat bags with goodies.

Strathcona County Transit will have their regular bus service running throughout the County and parents are requested to remind their children that in the event they encounter any problems while trick or treating, any transit bus is a safe place they can go to for help.

"This partnership with Strathcona County Transit is a perfect complement to helping ensure a safe Halloween as the buses act as a roving, mobile safe place that children can go to if they feel that they are in a dangerous situation" says Constable Wally Henry, spokesperson for the local detachment.

Strathcona County RCMP are encouraging all motorists to slow down, especially in residential areas on Halloween night, and to stay alert for the large number of young people that will be out that evening.

HALLOWEEN SAFETY TIPS


Trick-or-treaters  
Wear makeup instead of a mask. This will allow you to see and be aware of everything going on around you while walking house to house. 
Wear reflective clothing. 
Wear sure your costume does not drag on the ground so you don't trip. 
Wear comfortable shoes, even if they don't go with your costume. 
It is safer to carry flexible props (e.g. magic wands, swords). 
Wear a watch you can read in the dark. 
Carry a flashlight so you can see where you are going. 
Walk, don't run. 
Stay in familiar neighborhoods. 
Stay on the sidewalk. If there is no sidewalk, walk on the left side of the road facing traffic. 
Do not cut across yards or driveways. 
Obey traffic signals and give traffic the right of way. 
Only approach houses that have the outside lights turned on. 
Stay away from pets you don't know. 
Trick-or-treat in groups. 
Never enter a stranger's home or car for a treat. 
Parents
Do not let children handle sharp utensils, such as knives, to carve a pumpkin. A way that children can participate in carving the pumpkin is to let them draw the face, and let the adult carve it.
Clear your front entrance of any items which trick-or-treaters may trip on.
Ensure that your child eats dinner before setting out. 
Discuss with your children what they should do to call home in case of emergency. 
Ideally, young children of any age should be accompanied by an adult. 
If your children go on their own, be sure they wear a watch, preferably one that can be read in the dark. 
If you buy a costume, look for one made of flame retardant material. 
Older children should know where to reach you and when to be home. 
Although tampering is rare, tell children to bring the candy home to be inspected before consuming anything. Look at the wrapping carefully and toss out anything that looks suspect. 
Make sure your yard is clear of such things as ladders, hoses, dog leashes and flower pots that can trip the young ones. 
Pets get frightened on Halloween; put them inside to protect them from cars or inadvertently biting a trick-or-treater. 
Battery powered Jack-O-Lantern candles are preferable to a real flame. If you use a real candle do not leave it unattended and keep it away from flammable materials.
Place pumpkins and decorations out of reach of children. 
Healthy food alternatives for trick-or-treaters include packages of low-fat crackers with cheese filling, single-serve boxes of cereal, packaged fruit rolls, mini boxes of raisins and single-serve packets of low-fat microwave popcorn. 
Refrain from handing out treats that contain peanuts or peanut butter, as many children are allergic.