"Play safe! Be safe! presentation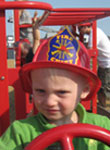 The Play Safe! Be Safe! fire safety program is perfect for three to five year olds. This program is divided into four lessons, each focusing on a program specific to fire safety behaviour and its related concepts.
1. "My friend the firefighter" teaches children that even though a firefighter's gear may look strange, the firefighter is still a friend who will help us if there is a fire.
2. "Stop! Drop! and Roll!" shows children what to do if one day fire "gets on" their clothes.
3. "Crawl low under smoke" teaches children the correct fire safety response if they are ever in a room with smoke.
4. "Play safe, be safe" stresses that children should always keep away from adult tools, especially matches and lighters.
A public safety educator would be pleased to attend your preschool group. This program is approximately 25 minutes.
Further information
780-464-8468
safety.educators@strathcona.ca