Strathcona County brand new!
Some things never change, like our value system born of agricultural roots, an honest day's efforts, and compassionate hands. In our busy lives, we can lose track of what's happening where we live ...we get a bit foggy about why we like it so much ... just that we do.
Reintroducing you to Strathcona County 2012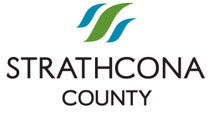 We are parks, community spirit, smaller community feel, excellent recreational infrastructure, and a strong energy industry. More deeply, we are the home of the "can do" spirit. Strathcona County is the home of the energetic spirit, super-powered by people who shape success in all its forms. Be it leadership, creativity or innovation, there are things we are at the forefront of in a world that's constantly changing. For all of us, every day is a chance to re-invent, re-imagine, re-engineer, re-think the future ... a Brand New Day. Strathcona County. It's our time.
Strathcona County's brand has remained largely undefined, even as the community has grown and evolved into an economic force within the province. The time is right to define what makes the County unique, and to share that with those outside of the community through a new brand. 

As part of the process, we invited Strathcona County citizens, business owners and industry to share what makes the community special. We surveyed people from surrounding communities to ask what they think of Strathcona County, and what attracts them to live or invest in a community.

Based on this research, we have unveiled a new Strathcona County brand, including a new logo that will appear on County materials.
Strathcona County's brand celebrates the community's:
"Can do" spirit - the community is supported and uplifted by well-educated social and economic movers and shakers, independent risk-takers, and leadership and innovation.
Quality of place, as reflected in the words 'Living. Refined'. which speak to the energy of our people, who contribute to Strathcona County being a preferred community (recreation, cultural and services infrastructure excellence), as well as the community's status as an energy engine.
Deeply-rooted value system - built on determination, honesty, integrity, freedom, personal responsibility, kindness, self-esteem, and compassion.
Brand defined
Who are we? Why do we matter? At its most basic level, this is what brand is all about. 

The more we can answer these questions, and the more creatively we express it, the more powerful our ability to meet our economic development goals and attract those who support a clear and common vision of the future. Economic Development Strategy 

A distinctive brand also strengthens community identity and pride, by expressing community vision and direction in a way that people can understand and support.
Strathcona County's logo is contemporary, yet simple, clean and sophisticated, in keeping with the essence of the community's brand - Living. Refined. The wave pattern's three stylized S's, represent Strathcona County (blue), Sherwood Park (blue), joined in the common pursuit of Sustainability (green). 

A brand is strongest when it is enthusiastically embraced by its citizens and business community.
Further information780-410-6595
info@strathcona.ca