Pride of Strathcona Awards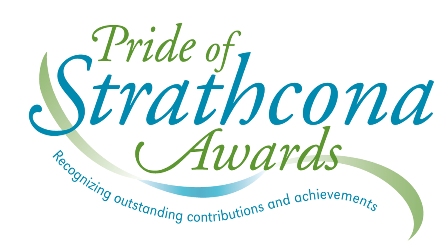 Pride of Strathcona is an annual awards program to recognize Strathcona County citizens for outstanding achievements and contributions.
Congratulations to the 2016 Pride of Strathcona Awards recipients!
Mayor's Award
Bridgette Hardy-Crytes
Community Service
Moyra McAllister
Jordan Smith
Arts, Culture and Heritage
Renee Lippa
Agricultural Leadership
Greg and DeeAnn Knott
Rob Sproule
Professional Achievement
Satish Pandya
Tim Wiwchar
Youth
Teagan de Seguin
Annalena Thiesen
Sports and Recreation Development
Brian Jolly
David Kozicki
Athletic Achievement
David Elliott
Gwendolyn McGuire
Christina Sanders
Outstanding Group
Sherwood Park Curling Club League Executive
Strathcona 4-H Rein Riders
More information about Pride of Strathcona award categories
Awards ceremony
Friday, May 27, 2016
7 p.m. (doors open at 6:30 p.m.)
Festival Place, Sherwood Park


Everyone is welcome to attend this no-charge event.