Assessment and Tax - FAQs
Frequently Asked Questions:
Q.   What is my property assessment based on?

A. The assessment and taxation process is governed by provincial legislation; your 2013 property assessment is based on a July 1, 2012 market value estimate, as measured by the real estate marketplace (i.e. property sales). 
Q.   How do I know my property assessment is a reasonable market value estimate and how does it compare to other similar properties?

A. Your property characteristics are measured against other properties that have sold, to calculate a market value. Characteristics such as location, age, size and others are all considered. You can confirm your property characteristics or compare to other properties, by using our NEW Property Assessment Mapping tool. Alternatively, an Assessor is available to answer your questions :  780-464-8196. 
Q. If I don't agree with my property assessment, what can I do?

A If, after having discussed your assessment with an assessor, you are still of the opinion that your assessment is incorrect, you may file a written complaint to the Assessment Review Board. Step by step instructions will be available on the back of your 2013 Assessment and Tax Notice (to be mailed in May). 
Q. Council has approved a 2.60 per cent municipal tax increase for the 2013 County budget. Does this mean my municipal taxes will go up by exactly this amount?

A. The County will collect 2.60 per cent more municipal taxes (in total) from the taxable assessment base. When the other three tax rates (Library, Heartland Housing Foundation and provincial education) are also considered, total 2013 taxes are estimated to increase by approximately 1.0 per cent.

You may also experience an increase more or less than 1.0 percent, depending on how your property assessment (market value estimate) has changed relative to the average (Tax Redistribution Effect).  The average residential market value increase is virtually unchanged at 0.50% (July 1, 2011 to July 1, 2012), but if your specific property assessment (market value) has increased more than average, you will have a greater than 1.0 per cent total tax increase.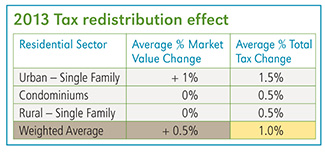 Q.   Why do property taxes change year-over-year?
A. There is a change in the annual budget or requisition requirements for municipal operating, Strathcona County library, Heartland Housing Foundation and provincial education.
    and/or
    A particular property assessment (market value) changed more or less than the average.
Q. How much of my total tax bill is used for Municipal Services?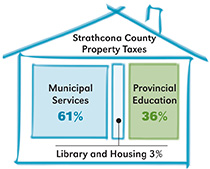 .      
A. Of every residential property tax dollar:    
 61 per cent pays for municipal services
 36 per cent is collected on behalf of the Government of Alberta for education
3 percent supports the Strathcona County

 

Library and Heartland Housing Foundation 
Q. What services do I receive for my municipal taxes?
A.     A sample single family residential property assessed at $419,000 will pay approximately $153 per  month in 2013 property taxes for Strathcona County municipal services including: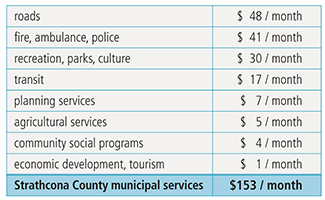 Also, as part of residential property taxes for this sample property, approximately $98 per months goes to:

 Q. What payment options do I have
A.  
 

Internet banking
 

Telephone banking

At chartered banks and credit unions

By mail (post dated cheques are accepted)

At the envelope deposit box (south side of County Hall)

In person at Strathcona County Hall

In person at Heartland Hall Contact Office or South Contact Office at South Cooking Lake (located in Firehall) 
Payment options are available on the back of your 2013 Assessment and Tax Notice (to be mailed in May)
Strathcona County offers a convenient payment plan that enables you to pay your property tax in 12 monthly payments
(January - December), instead of one annual payment.  There is no charge to join the plan. 
Q. Is there a penalty of not paying my taxes on time?
A. Property taxes are due on June 28, 2013
(Your tax bill covers the period January 1, 2013 to December 31, 2013).
Taxes for the current calendar year that remain unpaid are subject to the
following penalties:
July 1 @ 3 per cent
August 1 @ 6 per cent
September 1 @ 9 percent
Q.     Are there any property tax rebate programs for seniors? 

A.     Yes, there are three programs available;  .
Strathcona Senior's Property Tax Rebate

(County funded) is a flat $100 rebate, available to low-income seniors' households. You must be eligible for the Alberta Seniors Benefit program and reside on your own property within Strathcona County.  Contact 780-464-8196 for more information.
Education Property Tax Assistance for Seniors Program
(Provincially funded) provides an education property tax rebate for seniors that have experienced a year to year increase in their education taxes. Contact 780-644-9992, or www.seniors.gov.ab.ca for more information. 
 Seniors Tax Deferral Program 
(Provincially funded), will allow eligible senior homeowners to defer all or part of their property taxes through a low-interest home equity loan with the Government of Alberta.
Contact 780-644-9992, or www.seniors.gov.ab.ca for for information
Q. Where can I find out more information? 

A.  Assessment and Tax department at County Hall
2001 Sherwood Drive, Sherwood Park
Office hours: 8 a.m. to 4:30 p.m., Monday to Friday 
 
 Property Assessesment Inquiries
Municipal Property Tax
Inquiries
Education Property Tax Inquiries 
 Phone
 780-464-8196
 780-464-8120

 780-422-7125
(Gov't of AB)

 Fax
 780-464-8270
 780-464-8270
 
 Email  
 assess@strathcona.ca 
 taxation@strathcona.ca